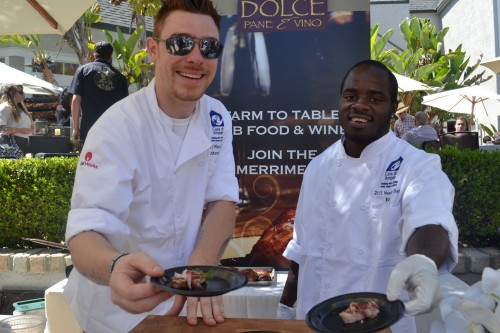 (Del Mar, CA, Sunday, April 25, 2015) Sunday, fun day or, shall we say Sunday, foodie Day. However you prefer to say it, Casa de Amparo's 19th Annual Meet the Chef's was one fun filled tasty afternoon.
Held at the beautiful Hilton San Diego/Del Mar, this event takes place every year in April (Child Abuse Prevention Month), benefitting the organizations efforts in treating and preventing child abuse and neglect throughout San Diego County.
The non-profit organization annually serves over 1000 Casa Kids, ages pre-natal to 25 and, over 700 families through six programs that promote healthy relationships.
Fifteen participating top restaurants and culinary experts were on hand to donate their time and food, to prepare and serve tastings off of their delicious menu to hundreds of people who came out to support the organizations mission.
This year, Chef Roberto Carboni of II Fornaio, served up a savory Pennoni alla Vodka, which was as the Italians say, "Delizioso!" Made with large pasta tubes with bacon, vodka-cream tomato sauce and Grana Padano, let's just say, it was hard not to go back for more.
Another savory favorite was the Smoked Confit Duck Breast, prepared by Chef Anthony Ventura of Dolce Pane E Vino. Described as being soaked in champagne and orange shaved fennel, and vanilla merlot reduction, the flavorful appetizer served on bruschetta was superb.
As for the sweet station, Chef Jeffrey Strauss's incredible Chocolate Pecan Bread was simply divine. The owner of Pamplemousse Grille, Strauss has an incredible flair for food design and presentation. Aside from aesthetics, once the sweet and succulent taste enters your mouth, you'll want more, and more and more.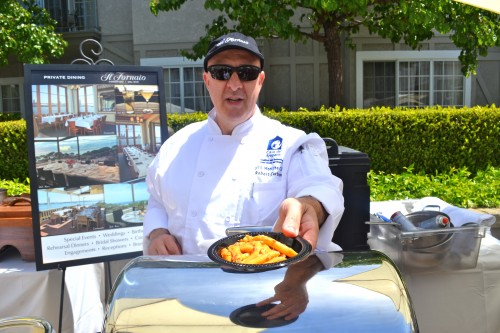 Check out casadeamparo.org for a complete list of participating restaurants and sponsors of the event.
One of the many highlights of the event was watching Casa Kid Chef Volunteers work alongside the Chefs. Judging from the smiles on their faces, the experience was priceless! Occasionally, Casa Kid Marchel Branch removed his chef hat to show off as he puts it his, "Chris Brown," moves.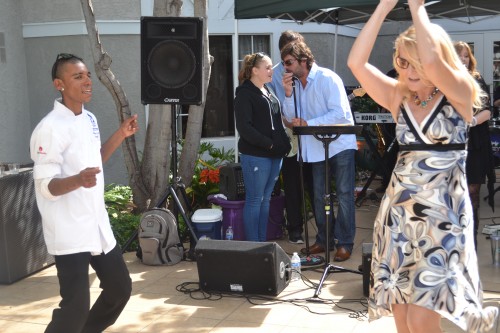 Throughout the lively afternoon, guests had an opportunity to bid on fabulous prizes during the VIP live and silent auctions. Prizes ranged anywhere from a seven-day Caribbean Cruise, Premium Concert Experience, Ultimate Padres Fan Experience and date nights for a year with fine dining.
The festivities took place primarily outdoors on the patio, near the pool as attendees indulged in unlimited food and wine while mixing, mingling and dancing to the sound of live music.
In cased you missed it this year, there's always next year.
For more information about the programs and services visit casadeamparo.org.