"Cat Pee on a Gooseberry Bush" Wine.
By: Sunday Ely
That is how Cooper's Creek produced its hit Sauvignon Blanc, in New Zealand. Now, I am not sure what "cat pee on a gooseberry bush" smells or taste like, but I imagine it somehow vigilantly brilliant. Doug, founder of the Wiens Family Cellars Winery in Temecula, California produces a host of rich, deep, sweet and crisp complex wines all vigilantly beautiful. At the Orange Coast Winery in Newport Beach, California I was able to experience a host of premier wines from the Wiens Family. From their acidic sweet Sauvignon Blanc, sweet and flirty Viognier to their delicious 2012 Temecula Reserve Primitivo Syrah, just to name a few, the Wiens Winery has something luxurious for every season and pallet.
The Wiens Winery is famous for their rich "Big Reds", and this title they earn from root to glass. Though I am a red wine kind of gal I was completely won over by the 2012 Viognier wine.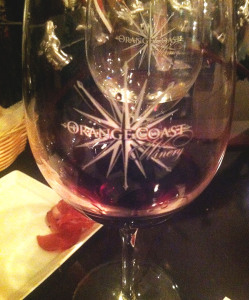 Something about this wine stood out like nothing I had ever sampled before. It was incredibly creamy and smooth. Something about it took me to the tropics in one glass. It triggered a memory of frozen Piña Coladas, in hand while gazing at a crystal blue sea. I could taste, ripe bananas, juicy peaches, and hot sunrays in the middle of a cold dewy spring evening. Simply heavenly, I couldn't leave without it!
A quaint and intimate atmosphere, with dim lighting and plush crisp red-leather chairs set the perfect mood for this tasty occasion. Nat Bandel, manager of the Orange Coast Winery Ocean Celler, made sure every guest was attended to.
Our hosts for the evening were two Sommeliers, Jason Booth and Ben Draper. Booth and Draper produce the podcast series "Wine for Sophisticated Homies". Hilariously engaging and educational I learned about the history of wine all over the world and in the United States. Particularly, it was wonderful to gain deeper insight into California wines. I discovered that most of the New World wines are actually fully aged at purchase. I like to call it "ready wear" wines. I discovered the benefits and drawbacks between cork, rubber and twist cap wines. I also gained insight into how and why people may shy away from purchasing/ordering a Merlot wine. Apparently it all steams from Sideways the book and movie. Who knew?
At the end of this event, all the attendees where buzzing and talking with one another. Wine has a way of lifting stale energy and replacing it with social vibes.
For more information on the Wiens Family Celllars Winery do visit: http://www.wienscellars.com
For more information on the Orange Coast Winery visit: http://www.orangecoastwinery.com
Travel Journalist Sunday Ely of San Diego, California is a graduate of University of California Berkeley. Check out more of her travel experiences at SundayEly.com.