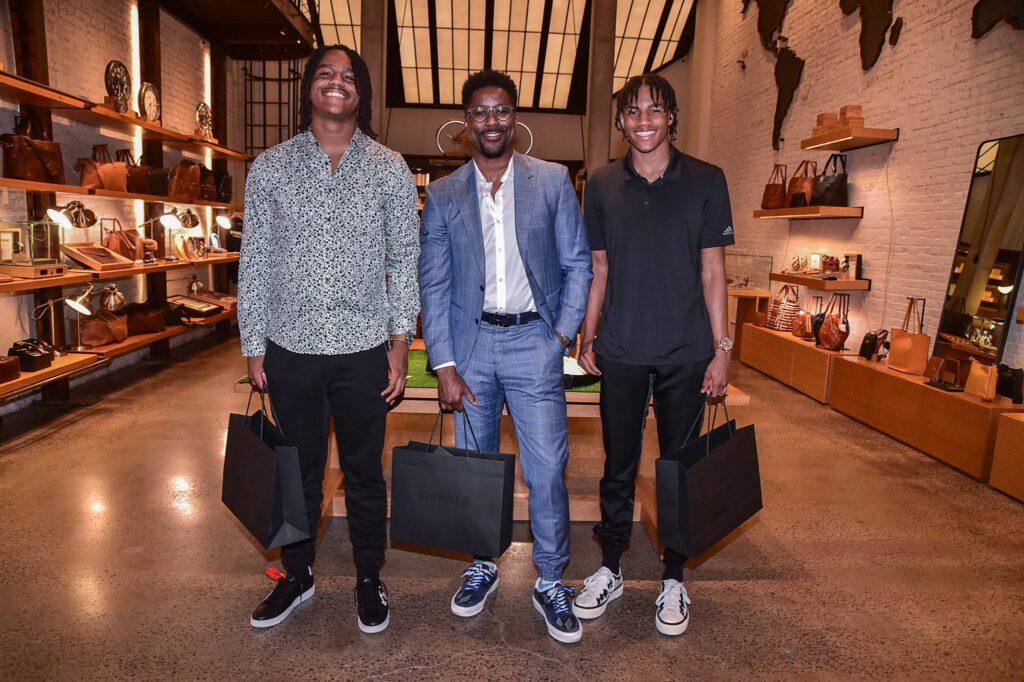 DETROIT (June 15, 2023) — As Father's Day approaches, an inspiring collaboration between Shinola – the Detroit-born lifestyle brand – and Nate Burleson, former pro athlete, CBS Mornings co-host and devoted father of three, is celebrating the profound impact fathers have on shaping their children's lives through a heartwarming digital campaign, "Celebrate This Father's Day With A Timeless Legacy."
Shinola is renowned for its commitment to building timeless products and experiences embodied with a distinctive and unmistakable sense of American design, craft, quality, and warmth, deeply rooted in Detroit's rich history and resilient spirit. Burleson, a former Detroit Lions player, also shares a deep connection to the city and has teamed up with Shinola to highlight Dads this Father's Day.
In the short film launching this week across the brand's social platforms, Nate shares his thoughts on being a father, emphasizing the importance of cherishing family time that he is passing down to his children and future generations of Burlesons. Created by award- winning creative agency Falkon through their new Purpose Division, and Creative Directed & Directed by its founder Dexton Deboree, the campaign's video and photo assets merge style and sentiment to create a meaningful tribute to fatherhood.
Cameras follow Nate on a trip to the Shinola store in search of a very special heirloom gift for his children, acknowledging his sons and daughter as the best Father's Day gift he could ever receive. Nate's journey to find the perfect timepieces turns into a moment that captures the significance of cherishing family connections and time well spent.
"I'm looking for something very special. I want to do something for my sons and daughter that will stand the test of time but also be a reminder of our relationship," shares Nate as he enters the store.
Guided by the expert team through a signature Shinola in-store experience, he explores the range of timepieces available, carefully selecting the perfect ones for his children. After being personalized with special engraving, Nate presents the gift to his teenage sons and imparts a valuable lesson in the heartfelt moment.
"Thank you for being the best Father's Day gift year after year after year. I wish time would stop… Every stage of your life, I've enjoyed it thoroughly. Because I can't stop time, I want to put a timepiece on your wrist that you can take with you forever."
"Take advantage of the time we have," he adds. "And let's create the best memories possible."
Through rich visual storytelling, the campaign captures the essence of a father's legacy and the timeless gift of shared experiences. Video and photo assets will be showcased on Shinola's social media platforms, as well as collaborative posts with Burleson.
"This collaboration with Nate Burleson is a meaningful tribute to the power of fatherhood and the lasting impact we have on our children's lives," says Philip Pirkovic​, Shinola Director of Brand & Partnerships​. "We are honored to be a part of this campaign and to create timepieces that represent the profound bond between fathers and their children."
As Father's Day approaches, "Celebrate This Father's Day With A Timeless Legacy" featuring Nate Burleson and Shinola serves as a tangible reminder of the invaluable role Dads play in shaping our lives and the enduring impact of cherished memories.
For more information, visit Shinola.com