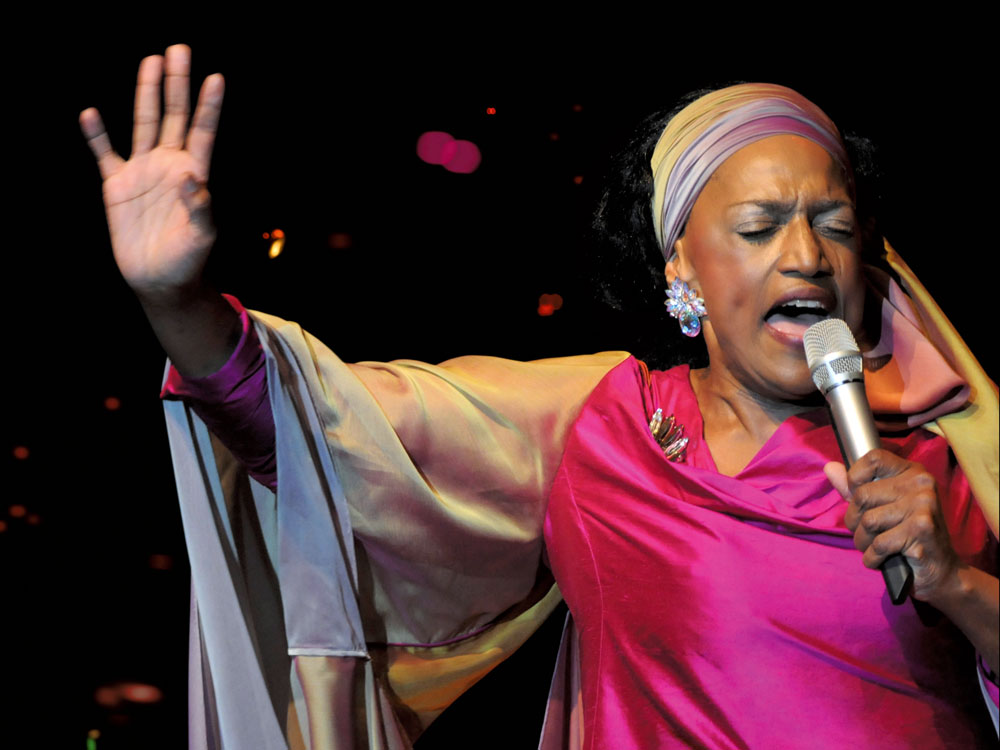 World renowned , and one of the most celebrated opera stars, Jessye Norman, has passed away at 74, the Associated Press reports. Gwendolyn Quinn, spokesperson for Norman's family, confirmed the heartbreaking news. The Associated Press released a statement stating that the Augusta, Georgia native passed away at 7:54 a.m. on the morning of Monday, September 30. The cause of death, septic shock, a fatal medical condition that occurs when an organ injury leads to infection and dangerously low blood pressure. The condition was a result of complications from a 2015 spinal cord injury. The Grammy Award winning soprano passed away at New York City's, Mount Sinai St. Luke's Hospital.
Says Norman's family in a statement, "We are so proud of Jessye's musical achievements and the inspiration that she provided to audiences around the world that will continue to be a source of joy. We are equally proud of her humanitarian endeavors addressing matters such as hunger, homelessness, youth development, and arts and cultural education."
Born and raised in Augusta, Georgia, Norman was constantly surrounded by music, as she grew up singing in her church and around a musical family that included pianists and singers.
She continued her passion for music in college, opting to study the craft at Howard College in Washington D.C., and later at the Peabody Conservatory in Baltimore and the University of Michigan, before making her opera debut in 1969 at the Deutsche Oper Berlin.
From there, Norman appeared in a series of performances and concert tours around the world, including her United States stage debut at the Opera Company of Philadelphia in November 1982 and her Metropolitan Opera debut in New York in September 1983.
Her impressive soprano vocals quickly earned her praise and recognition as one of the greatest operatic singers of all time, as well as one of the leading African-American opera singers in a white-dominated industry.
Throughout her illustrious career, Norman was nominated for 15 total Grammy Awards, picking up four wins — including best classical vocal soloist performance and best opera recording — and a Grammy Lifetime Achievement Award in 2006.
In 1997, Norman made history at age 52 when she became the youngest person ever to earn the Kennedy Center Honor in their 20-year existence.
She also received a number of impressive accolades throughout her lifetime including earning honorary doctorates from Julliard, Harvard, and Yale, among others; having an orchid named after her in 1984 in France; being named Honorary Ambassador to the United Nations in 1990 by U.N. Secretary Xavier Perez de Cueller; and earning a National Medal of Arts in 2009 from former President Barack Obama.
In recent years, Norman had expanded her craft from opera to jazz and opened an after school program to "nurture the artistic and creative talents of students" called the Jessye Norman School of the Arts in her hometown of Augusta.
Besides performing and helping run the school, Norman served on multiple Boards of Directors for the New York Public Library, the New York Botanical Garden, City-Meals-on-Wheels in New York City, the Dance Theatre of Harlem, the National Music Foundation, and the Elton John AIDS Foundation.
The Chocolate Voice extends our thoughts and prayers to the Norman Family.