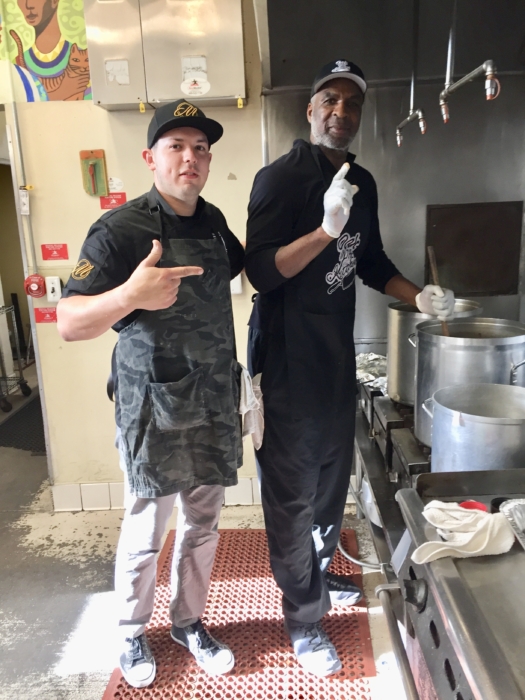 LOS ANGELES, CA (February 16, 2018) – The word was out and  hundreds of homeless individuals aligned the sidewalk as early as 8a.m. in anticipation of a hot meal and some entertainment at the "Oak-in-the-Kitchen" Feed Skid Row 2018 event.  When the gates opened at Gladys park located in the heart of Skid Row, guests from the homeless community were pleasantly surprised to learn that they had the option of 3 meal stations to choose from, all prepared by celebrity chefs. NBA Great turned Chef, Charles Oakley along with Food Network Celebrity Chef, Penny Davidi and Chef David Fuerte, Chef Jeremy McBride of Comfort L.A. prepared gourmet food selections that would delight any pallet.
"We have been doing this in several cities throughout the years where we see a desperate need for help. When Henry Butler reached out to me about the event, it was an instant yes! I couldn't just come to Los Angeles for All Star weekend and go to all the great parties and events, knowing that only a few blocks away, there were people in need", says Oakley.
The event "Oak in the Kitchen" fundraiser in effort to bring good food, good cheer and a few moments of celebration to the homeless community during NBA All-Star weekend was the vision of Henry Butler, CEO of Connect Global, a brand marketing company based in Los Angeles. Butler along with "General Jeff", also recognized at the honorary Mayor of Skid row, a well-known and respected activist for those living on Skid Row and founder of "Issues and Solutions", an organization finding solutions to improve life on Skid Row, joined forces to bring this epic day on Skid Row to life.
Chef Charles Oakley and his team of assistants worked in the kitchen for todays preparing his world famous Chili and hundreds of Turkey sliders which was a big hit amongst the more than 700 guests. Chef Penny Davidi and Chef David Fuerte prepared Baked Salmon with Chimichurrie sauce, Tarro Salad w/dates, pistachios, shaved Brussels sprouts and arugula Hummus topped with friend onion leaks and shaved sprouts and warm flatbread. Chef Jeremy McBride of Comfort LA located at 1110 E 7th St, Los Angeles prepared from their menu: Cousin Kina's Mac 'n' Cheese, Clean Mean Greens, and their signature organic "Not your Average Friend Chicken w/That Sauce" and corn muffins.
"I've been living on Skid Row for 6 years and this is the first time I ever had food like this and a party. We hope you come back", says Kevin White, resident of Skid Row.
Pastor Anthony "Shep" Crawford  of the Experience Christian Ministries gave the opening prayer and words of encouragement to an anxiously awaiting crowd, followed by an address by a very well known allied to the community, Peter White, Executive Director and Founder of LA CAN, who utilized their space as a check-in point and volunteer assignment center.
Throughout the day guests enjoyed performances by some very talented residence of skid row, comedy by local comedians, and they danced while in awe of 12-year-old twin DJ phenomenon's Amira & Kayla showcasing their DJ skills on the ones and twos. Oak-in-the-Kitchen has been listed as one of the best events of the NBA All Star weekend. My friends House offered free haircuts and grooming services throughout the day.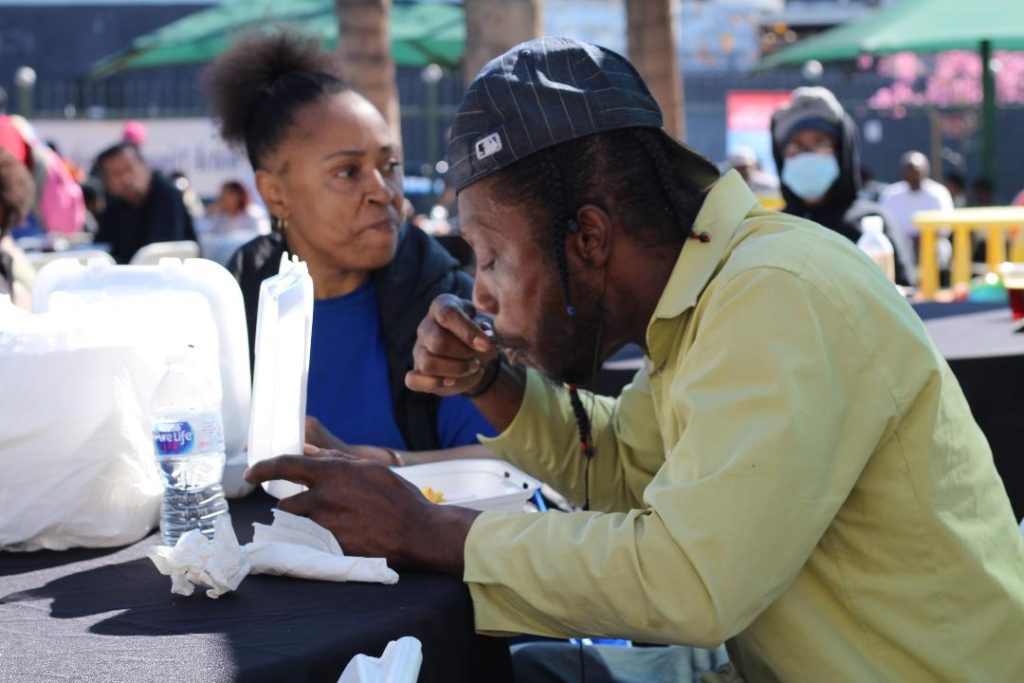 Photo credit:  Dwane Bussey.
Other celebs helping to serve included: Actors Kyla Pratt "Let's Stay Together," Dominique Columbus "Ray Donovan Show" Donovan Carter, Donovan Carter "Ballers", Brandon "Lark" Larkins, Dylan Riley Snider "Kickin It" Disney, Wendell James of Raising Whitley, Kerry Rhodes "If Loving You Is Wrong", Producer/Pastor Shep Crawford, Skye Marshall, "Black Lightening", and Azim Rizx "Power Rangers Megaforce".
Global Connect has identified three non-for-profit agencies that has worked tirelessly behind the scenes to provide resources to the homeless by way of meals, clothing, toiletries, transitional housing, emergency shelter, financial assistance, legal issues, helping to locate and reconnect with family members, etc. it is the goal of Global Connect to raise monies for these organizations to help them to continue their selfless acts of kindness and their diligent efforts in helping to keep these individuals safe while finding resources to get them off the streets and into homes. These agencies include: New Image Emergency Shelter, Los Angeles Community Action Network (LA CAN) and My Friends House Foundation.
Sponsors include: Connect Global, Oak in the Kitchen, Sysco Foods, Silverstein Properties, Dickerson Employee Benefits, LDB Casting, Los Angeles Park and Recreation, LA Catholic Worker "Hippie Kitchen", SRO Housing Corporation, Blaq Digital, The Experience Christian Ministries and Infinite Scope PR.