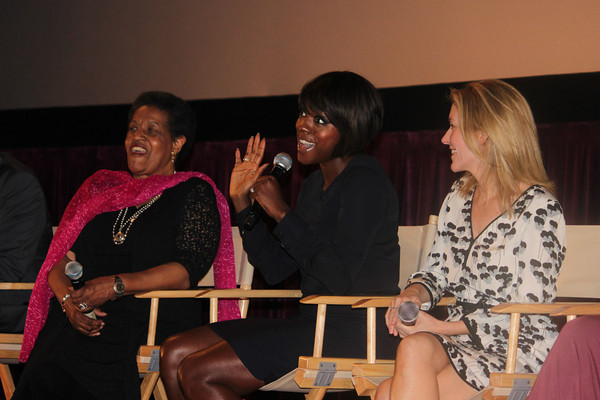 The 87th Oscars will be held tonight Sunday, February 22, 2015, at the Dolby Theatre® at Hollywood & Highland Center® in Hollywood, and will be televised live on the ABC Television Network at 7 p.m. ET/4 p.m. PT. The Oscars, produced by Zadan and Meron, also will be televised live in more than 225 countries and territories worldwide.
Award-winning star of stage and screen Neil Patrick Harris will host the 87th Oscars®. This will be Harris' first time hosting the ceremony.
DAVID OYELOWO
Oyelowo portrayed Martin Luther King, Jr. in this year's Best Picture nominee "Selma." His other recent feature credits include "A Most Violent Year" (2014), "Interstellar" (2014), "Lee Daniels' The Butler" (2013) and "Jack Reacher" (2012).  He will next be seen in "Captive" due out later this year.
KERRY WASHINGTON
Washington is the star of the hit television drama "Scandal," and received two Emmy® nominations for her role. Her film roles have included "She Hate Me" (2004), Mr. & Mrs. Smith (2005), "I Think I Love My Wife" (2007), "Lakeview Terrace" (2008), "For Colored Girls" (2010) and "Django Unchained" (2012).
VIOLA DAVIS
Davis has been nominated for two Oscars, one for her supporting role in the 2008 film "Doubt" and one for her leading role in 2011's "The Help."  She currently stars in the ABC primetime hit "How to Get Away with Murder." Davis's film credits include "Get on Up," "The Disappearance of Eleanor Rigby: Them,"  "Ender's Game" and "Prisoners."  She will next been seen in "Lila and Eve," due out this year.
KEVIN HART
Hart, who currently stars in the feature comedy "The Wedding Ringer," appeared in last year's "Ride Along," "About Last Night," "Think Like a Man Too" and "Top Five." His previous credits include "Think Like a Man" (2012) and "The Five-Year Engagement" (2012). He will star opposite Will Ferrell in "Get Hard" later this year.
CHIWETEL EJIOFOR
Ejiofor received his first Oscar® nomination last year for his lead performance in "12 Years a Slave." He previously appeared in such features as "Salt" (2010), "American Gangster" (2007), "Children of Men" (2006) and "Dirty Pretty Things" (2003). His upcoming films include "Z for Zachariah" and "Triple Nine."
JENNIFER LOPEZ
Lopez can currently be seen in the thriller "The Boy Next Door." Her other feature credits include "An Unfinished Life" (2005), "Monster in Law" (2005), "The Wedding Planner" (2001) and "Out of Sight" (1998). She stars opposite Viola Davis in "Lila & Eve," which premiered last month at the Sundance Film Festival and she will voice 'Lucy' in the upcoming animated film "Home."
EDDIE MURPHY
Murphy received an Oscar nomination for his supporting role in the 2006 film "Dreamgirls." He has starred in such features as "Bowfinger" (1999), "The Nutty Professor" (1996), "Coming to America" (1988), "Beverly Hills Cop" (1984) and "48 Hrs." (1982), and has lent his voice talents to all four of the "Shrek" animated features to date. He will next be seen in the independent drama "Cook."
IDRIS ELBA
Elba most recently starred in the 2014 thriller "No Good Deed." His other film roles include "28 Weeks Later" (2007), "Thor" (2011), "Pacific Rim" (2013) and "Mandela: Long Walk to Freedom" (2013). He has been nominated for four Emmy Awards®, including three for Lead Actor in a Miniseries or a Movie for "Luther" (2010). Elba will next be seen in "Beasts of No Nation."
TERRENCE HOWARD
Howard was nominated for his leading role in 2006's "Hustle & Flow." His other films include Oscar-winning Best Picture "Crash" (2004), "Ray" (2004), "Iron Man" (2008), "Prisoners" (2013), "Lee Daniel's The Butler" (2013) and "St. Vincent" (2014).  Howard currently stars in the hit television series "Empire."  His upcoming films include "Term Life" and "Cardboard Boxer."
LUPITA NYONG'O
Nyong'o took home the Oscar for Actress in a Supporting Role for "12 Years a Slave."
OPRAH WINFREY
Winfrey is nominated for Best Picture as one of the producers of "Selma." She was previously nominated for Actress in a Supporting Role for "The Color Purple" (1985). She received the Jean Hersholt Humanitarian Award in 2011.