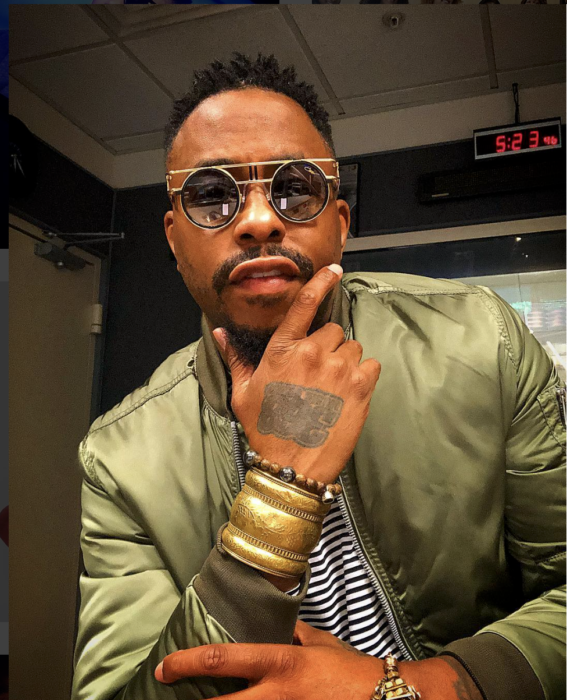 We first met three-time Grammy nominated recording artist Raheem Devaughn at the very first BET Experience in LA. Back in 2013, we knew then just as we know now, this brother can sang!
With his new album, "Decade of a Love King" coming out on Friday, the love king himself took some time to chat with The Chocolate Voice about what and who inspires his uplifting music about women, what to expect from his 6th studio album and his role in giving back.
TCV: How are you, Raheem?
RD: Peace Gwen, how are you doing?
TCV: I'm doing well. Thanks for asking. Congratulations on your new music! I must say that I'm a big fan. You never disappoint.
RD: Thank you very much!
TCV: When you first started out in the business, did you set out to have a mature crowd as your audience?
RD: I really hadn't put that much thought into any particular audience, style or genre. Everything is really music driven. I just wanted to make music that was iconic, real and organic. Music that touches the soul. It's safe to say that I have a very diverse audience.
TCV: Your music definitely is very uplifting to women. Who are the strong women in your life that inspire your music?
RD: My grandmother is definitely one of the strongest women that I know. I spent a lot of time with her. In a world where you feel sometimes misunderstood, she always got it. She got me.
TCV: What's your favorite song on the new album, "Decade of a Love King"? And, why?
RD: I don't like to limit my vibes to one song. When you listen to my music it's an experience from beginning to end, that's always the goal. The album has 13 new tracks and it's a whole experience. You have to be careful who you listen to it with. If you plan on being with someone temporarily, you may not want to play my music, you know. (Laughs)
TCV: I love how the video showcases chocolate girls.
RD: I'm always repping for the melanin sisters. Funny story – I remember shutting down the "I Don't Care" video because I personally requested a chocolate girl.
TCV: Good for you!
RD: If you go back at look at that video it doesn't get more chocolate than that. So, the young lady that ended up being in the video, was there working on the set. I said, 'Look if ya'll can't find me no chocolate girl, I'll find her. I was like you, you, right there. You're in the video.' I always try to look for a fresh look to represent the sisters.
TCV: You look really good in the videos.
RD: Kudos to my stylist Tiffany Barringer who's doing an excellent job.
Any upcoming collaborations? By the way we really enjoyed your 2013 collaboration with Boney James.
RD: Thank you! I just did a record with Dionne Warwick and Angie Stone, and an EP with South African singer-songwriter, Zonke. Brand wise, I have a lot of new stuff on the horizon in 2019.
Tell us more about your role as a philanthropist?
RD: I'm all about community—putting that work in, leading by example with the LoveLife Foundation (https://www.lovelifefoundationdmv.org/shelter-room-project.) One of our major initiatives is to fight domestic violence, support women's rights, as well as the text book scholarship fund. Which is one of my fun things to do every year—helping kids to pay for their books and supplies the first year of college. Eventually, we hope to expand on that and make it a full ride scholarship. We also feed the homeless and have H.I.V and Aids programs. I have a huge partnership with A.H.F. You know, just anything to help us as black and brown people. And, there's my Christmas holiday concert that I do every year. There's a lot of great things that we're doing and we're going to continue to expand. We're not just local, we're national and global.
TCV: That's fantastic! The world needs more artists like Raheem DeVaughn to use their platform to make the world a better place.
TCV: You're a busy man, what do you do to take care of Raheem.
RD: This is for everybody out there, you don't necessarily have to be problematic to have therapy. Sometimes getting an unbiased ear to talk to helps. It works for me. I'm a work in progress.
TCV: What do you like to do for fun?
RD: I'm a normal guy. I like to cook, watch movies, take trips, stuff like that. But, do I have time for playstation. Nah, I don't have those type of luxuries. I'm a workhorse. I need to learn to say no. I'm lucky if I can catch a show on Netflix.
"Decade of A Love King", is globally available on October 19th, 2018.
Click here to check out the video for latest single, "Don't Come Easy" on YouTube.