Recently, in a phone chat The Chocolate Voice, caught up with the smart, lovely and talented Reality Television star and Founder of Renown Premium Hair, Toi Troutman-Walker. The stunning beauty candidly shares what it takes to find the right kind of love at any age.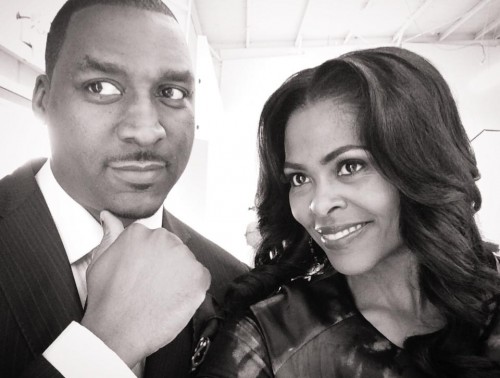 In a light hearted and revealing conversation, the former L.A. publicist opened up about many things, including: Her true feelings about online dating, the formula for finding love after forty, the hair business, and the importance in setting a positive example of Black marriage.
Most notably known as a cast member on Bravo's "Newlyweds The First Year," Toi talks about reconnecting with her husband Rouvaun, a mortgage banker initially on AOL Black Voices fifteen years ago. She refers to her handsome man as, "The one who almost got away."
With the help of Facebook, the forty something year-old beauty and her love Rouvaun, found their way back to each other, resulting in Toi leaving behind the fast paced Hollywood life to start a new life in Northern California.

By the way, how many of you enjoy getting your groove on to the sounds of the funk band Zapp? Well, Toi (Troutman) is the daughter of the late Larry Troutman and the niece of Roger Troutman.
Zapp is best known for such hits as "More Bounce to the Ounce," "Doo-Wah-Ditty," and "Computer Love."
Roger Troutman appears on Tupac's hit single, "California Love," and received a Grammy nomination for Best Rap Performance by a Duo or Group.
Read more of our upbeat conversation here:
TCV: From what we've read, you reconnected with your love Rouvaun, on social media after being apart for fifteen years. Tell us more.
Toi Troutman-Walker: Well, back when we first met, it was on AOL Black Voices, when everyone used dial up. We met in one of the live voice chatrooms. As it turns out, Rouvaun, had to come to LA for a visit with his mom, and we went on a date.  It was the best date that I've ever had!  Although for me, it was a reality check that he lived 400 to 500 miles away. I already had children, and he didn't have any. So, over the years I just thought of him as the one who got away, and, you know with Facebook being as it is, we reconnected 15 years later, went on a dinner date and have been inseparable ever since.
TCV: What do you say to those with traditional dating values, that are skeptics about social media, and opposed to online dating?
Toi Troutman-Walker: You know, I am too!  Because there are more bad stories than good. But, I think that when you have a connection with a person you can tell when it's real. I believe with social media anything is possible when reconnecting with old friends. I'd also like to add, that if there's someone that you thought may have been the one, look them up and just reach out to them.
TCV: Can you tell our reader's more about why you decided to share your relationship on Reality TV?
Toi Troutman-Walker: Rouvaun didn't want to share our lives on TV at first.  One of my big reasons was that there are many of us out there that are past a certain age, who just kind of give up on the fairytale love.  And two, I thought our story was inspiring and unique in the way that it all played out.  I wanted people to know that just because you're past forty, it doesn't mean that you can't have the wedding or marriage of your dreams. Rouvaun eventually came around, but it took some begging. (Laughs)
TCV: Do you feel any pressure to represent Black marriage positively on Reality TV, especially when viewer ratings soar on shows where images of Black relationships on other's (shows) are portrayed more negatively?
Toi Troutman-Walker: The show per se, didn't pressure us to create drama. But, certainly there's the thought that if you're not bringing drama, the audience will get bored. Unlike most shows, the show is really unique in that it does film for only a year.  Most of the shows we see are filmed 3 to 4 months and, a season is formed out of that. This was really an entire year of our lives. An important year.  We had to make a decision early up front that we weren't going to play into any of the stereotypes out there.  We decided to be who we really are to each other.  We knew up front that we couldn't be renewed.  The concept of the show is the first year of marriage. Next season there will be no couples. So, there was no pressure to be the villainess or the villain. 
TCV: How does your children and other members of your family feel about their lives being shared on national television?
Toi Troutman-Walker: My kids are grown, so they appreciate it.  Rouvaun's children are younger, both under 14 so, they didn't really watch it. Besides that, it comes on after 10 pm and, it's not kid friendly. (Laughs)
TCV: What has been the most challenging part about sharing your lives as Newlyweds with the world?
Toi Troutman-Walker: The most challenging part was the amount of time that we committed to letting Bravo into our home.  About half way through, Rouvaun was like, "What have we got ourselves into."  For me, it was the whole excercise of vanity–I have a zit, I look fat, I can't wear this. HGTV is just so cruel. T.V's aren't small like they used to be.  You have those days where you just don't feel cute. And if you don't feel cute, you certainly don't want to be shown in millions of homes. (Laughs)
TCV: What tips do you have for forty something singles in search of grand love?
Toi Troutman-Walker: Number one, this is tried and true but be yourself no matter what.  Because, at the end of the day, that's the person that they're going to wind-up with. If you're putting on airs and making changes, you're going to have to keep that up. It's actually easier to just go ahead and say to the person, look, I smack when I chew. I snore. Honestly, it's more useful and beneficial to the relationship to set your representatives on the first three months of dating. Then, the real you comes out. And, after 40, your ready to let it all hang out.  Because, we've had too many birthdays and we're comfortable in our own skin, and this is it.
TCV: No time for games, right.
Toi Troutman-Walker: Right. No time for games and obviously, just don't play them.  Leave no stone unturned.  If you think that this person may be cool, give them an opportunity.  They may not make more than you, or, have all of the things on your list but, if they have 70-80%, go out with them!  If there's a low 50% on your list, don't bother they'll probably lose 20% along the way.
TCV: Those tips can be used for twenty-something singles too!
Toi Troutman-Walker: Honestly, yes.  Rouvaun hasn't lost many points, he's awesome! (Laughs)
TCV: Did growing up in a musical family influence your decision in becoming a celebrity-publicist?
Toi Troutman-Walker: That's a good question! Yes, because my family did not use one.  I often thought even then, if they had used a publicist they would be even more famous.  My Dad was always dead set against it.  I don't think that he really understood the concept of a publicist. With all of the things that Roger did, he never got a Grammy. And, very little music play in terms of the sound beats turning into commercials, and all the sorts of things that publicists can make happen.  Yes, that was definitely an influence for me to say, let me see if I can help put some of us on the map, that may not make a splash that they would with some P.R. I understand the concept of PR versus advertising, there's just a huge difference.
TCV: After leaving your Hollywood lifestyle behind, you followed your husband to Hayward, CA, where you've reinvented yourself as an entrepreneur, launching a new hair extension business, called RENOWN HAIR, as well as a salon. How is business?
Toi Troutman-Walker: Actually really well! People are responding well to the Butt Naked Hair. The thing with Renown hair, we're dedicated to educating our buyers about hair. On our website we have a long description about the hair and where it comes from and, what's the difference between our hair and the other hair and why. Also, we have an in store salon where people are driving fifty miles to get their hair done because it's all about preserving the health of the hair. By the time they leave, they're making an educated choice on what to buy, and they understand the life expectancy of the hair and best yet, understand how to protect their investment. As simple as that sounds, most companies don't provide simple care instructions. We don't believe in tight weave or losing hair, none of that craziness. Basically, we are reprogramming all the things that have been learned about hair extensions.
To learn more about Toi's Hair Extension line visit: renownhair.com and buttnakedhair.com.  You can also follow her on Twitter and Instagram @toitroutman.