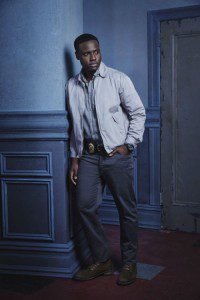 "When you grow up in a country where coming to America is a dream, you don't want to waste the opportunity on something as ludicrous as becoming an actor!" Jokingly says 27 year-old Nigerian born actor, Oladayo "Dayo" Okeniyi in a conversation with The Chocolate Voice.
But, acting was the one thing that truly made him happy. And, it has certainly paid off.
Growing up in Lagos, Dayo admits that being an actor was something that he kept secret for a very long time despite being involved in theatre as a child. It was in college that he finally decided to follow his heart and pursue a career in acting.
Okeniyi's parents (His mother is from Kenya and his father is from Nigeria) met while they were students at Anderson University in Indiana and later moved back to Nigeria. Dayo, the youngest out of five children wanted to go to college in the U.S., so the family returned to the U.S. when he was in high school.
Following in the footsteps of his parents, Dayo decided to go to Anderson University. Although he studied business marketing and advertising, his passion for acting was ignited during his senior year when he starred in the stage production of "Nickel and Dimed," which he describes as an awakening experience.
"Fortunately, I have extremely supportive parents, who said to me, 'Go out to LA, and give it a year. Get it out of your system. You can always come back and if something happens, you'll know that it was meant to be.'"
As luck would have it, Dayo's very first audition happened. He was cast as Thresh alongside Academy Award winning actress Jennifer Lawrence in the blockbuster film, The Hunger Games. And get this – it was his very first audition! From there, his career has snowballed into a list of great film and TV roles, including his latest role as Michael Loman on NBC's hit police drama Shades of Blue starring opposite Jennifer Lopez and Ray Liotta.
We'd have to agree with Dayo on becoming an actor—it was meant to be. Read more of our fascinating chat with Dayo Okeniyi below:
---
TCV: How crazy is it that your first audition and role was for the monster hit The Hunger Games?!
Dayo: It was incredible! I'd been in LA for a year when I met my current manager at an acting class. She sent me out on some test auditions. She said, 'you're probably not going to get it so don't go in there assuming that you'll get the role.' But she knew the casting director very well and said that they would give me feedback on what I need to do when I go out on future auditions. So really, that audition was for my manager, to see if I could act at all. Well, that tape went to the heads of Lions Gate, and to the director of The Hunger Games, Gary Ross. I still can't believe I ended up auditioning only once, which is unheard of!
TCV: Was it that easy for you when you auditioned for Shades of Blue?
Dayo: (Laughs) No! I auditioned three times with a casting director, a producer and I tested with Jennifer.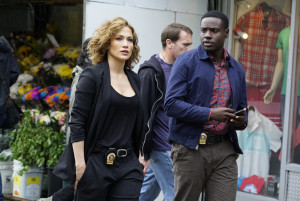 TCV: What was it like working with the two very famous Jennifer's, J.Law and J.Lo?
Dayo: For the most part they are everything that you would hope they would be. Jennifer Lopez is technically my boss, as one of the producer's of our show, Shades of Blue. She's amazing! She reads all of the scripts, and has strong opinions on all of the characters. She's an incredibly generous person. She invites the cast over to her place for celebrations—she's a mom, she's Jennifer.
TCV: Tell us about your character, rookie Michael Loman?
Dayo: During the first season, he's the moral compass of the NYPD. It remains to be seen throughout the show, if he will maintain his ideology or if he will be corrupted by these morally questionable people. I love the character. He has a heart of gold. He's the one sweet fruit in a basket of rotten apples.
TCV: Are there any similarities between you and the character Michael?
Dayo: Definitely. I like to think that I fall to the right side of morals. I agree with all of Michael's decisions. As an actor, you never want to fight with your character morally. Honestly, that's where our similarities stop. I can move on from my mistakes fairly quickly. I pride myself on being very strong. I don't wear my emotions on my sleeve like he does. That's his greatest weakness, people can see the purity in him and try to exploit it.
TCV: I read where your father is a retired law enforcement officer. Did you do any research with him in preparation for this role?
Dayo: My Dad was a customs officer for three decades, so no, I didn't have to go to my pops. NBC provided us with NYPD consultants, who taught us what is was like to be an NYPD officer which is very different from any other law enforcement officer, and to be frank, I spent hours and hours on YouTube studying the NYPD. YouTube is one of the greatest assets that an actor can have. (Laughs)
TCV: What do you love most about being an actor?
Dayo: You get to explore the human condition. I'm just a very curious person in general. I get to research different walks of life. Being an actor is just being a professional human. Really, you get to pry into different people's lives. It gives you great empathy on individuals who you just might otherwise judge or write off. In turn, you get to provide others with that same opportunity. It allows me an opportunity to explore the gray areas of life.
TCV: What's the most important thing you've learned being in the entertainment industry?
Dayo: Really, to follow your heart. In this industry, you can get caught up in the momentum of and think, I should be doing this or that. Early on I decided to just do projects that excite me— those that I find entertaining. I've received a lot of advice from the great people that I've worked with during my journey, and that is to follow your gut. Which is what I've been doing. I moved to LA with no money. Going broke again doesn't scare me. I know how to live on ramen noodles. I'm going to choose roles that excite and entertain me, and educate others.
Catch Shades of Blue starring Jennifer Lopez, Ray Liotta and Dayo Okeniyi Thursday, 10/9C PM on NBC.