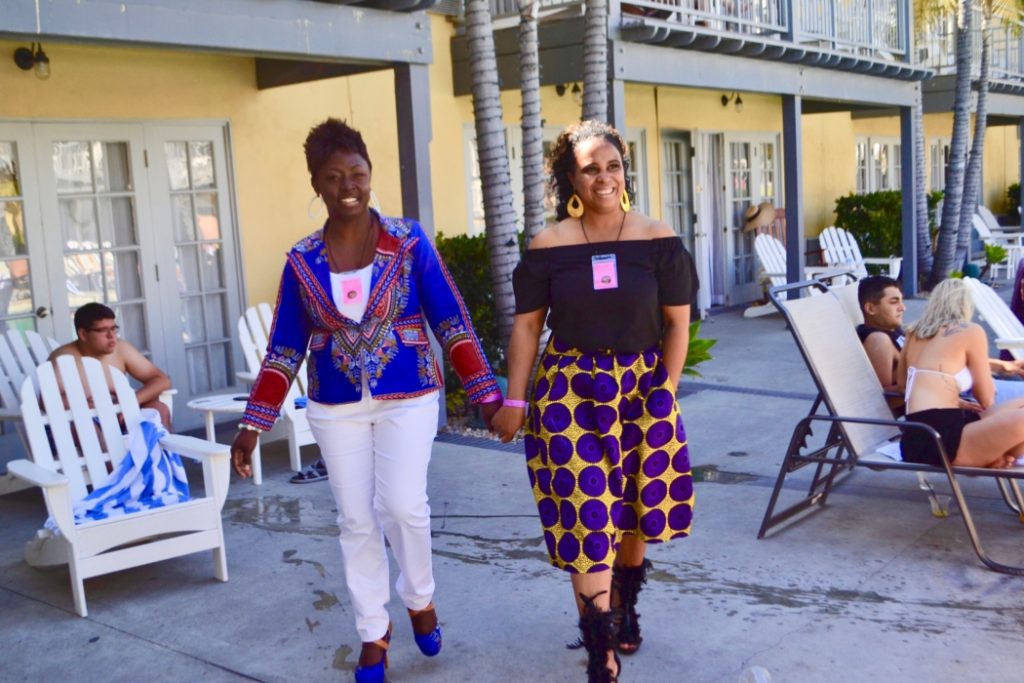 Photo:  Fashion Designers Lili Klu of LK Boutik and Tanya Jenkins  of New eshe collaborating partners of the event.
This past Saturday in San Diego, LK Fashions kicked off summer with a stylish splash! The San Diego based African clothing designer held a multicultural, festive poolside fashion show at the Lafayette Hotel, Swim Club & Bungalows, where guests of the hotel and attendees of the show were treated to a showcase of some of the hottest, and most popular trends in fashion today.
The day couldn't have been more perfect in America's finest city. With summer weather temperatures wavering at 90 degrees and climbing, the vibrant venue was filled with guests swimming inside of and lounging around the pool, as they watched a diverse group of models walk around smiling and styling from head to toe.
Throughout the entire event, the mood felt like vacation time, which in turn felt like summer.  The D.J. played upbeat Caribbean music, followed by live colorful performances from the carnival style dance group Afrique, and a trail of gorgeous models that SLAYED all day long.
The mastermind behind the well attended event was owner and clothing designer of LK Fashions, Lili Klu. Originally from Togo, West Africa, Lili says that she's thrilled to be able to create African clothing that celebrate Africa's rich culture.
Proceeds from the event will support City Heights non-profit, Lili's Fashion Academy.
Check out the photo's below from the event which showcase a diverse group of models sporting bold African style patterns on colorful print fabric, designed by Lili and company.
LK Fashions is located at 5285 El Cajon Blvd.
Side note: You might notice that a few of the outfits designed blend African, and Mexican styles adding flair to both cultures.  And, don't forget to check out the jewelry pieces on the models.  Enjoy!