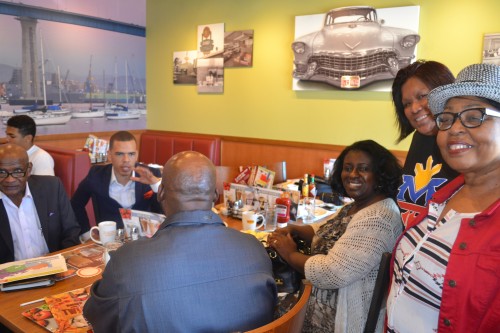 (Chula Vista, CA) On Saturday May 1, a group of local residents from the Chula Vista community decided to meet over breakfast to discuss the African American voice in determining council districts.
The meeting, which took place at the new Denny's restaurant located across from the Otay Ranch Shopping mall, was facilitated by JoAnn Fields, community organizer and long time resident of the Rancho Del Rey neighborhood.
With Chula Vista being the second largest city in San Diego County, in 2012, Chula Vista voters elected to create four geographic districts within the City of Chula Vista.  Future elections will be divided by these districts, with one candidate from each district being elected to represent that district on the City Council.
Districting is the process used to create these districts.
According to district statics, the majority of African American residents make up 5.43% of east Chula Vista and 4.14% of the westside of the area.
With the numbers growing in community and economic power,  Fields, and other prominent leaders of the community want to start a conversation to ensure that business and community decisions within the district are all inclusive, particularly when it comes to electing city council officials.
With that conversation in mind, the group created the name African American Culture, Commerce and Enterprise (AACCE).
Along with Fields, other community members in attendance were:  Dr. Willie P. Blair (BAPAC), Pastor Shane Harris (Shane Harris Ministries), Carol Jeffries (SEIU1000), Pastor William Benson (Total Deliverance Worship Center), and another prominent resident Rhonda Phillips and a friend, who were dining at the restaurant and joined in on the conversation.
For more information on helping to shape Chula Vista in the districting process visit: www.chulavista.gov/districting. Or to find out more about AACCE contact JoAnn Fields at: [email protected]