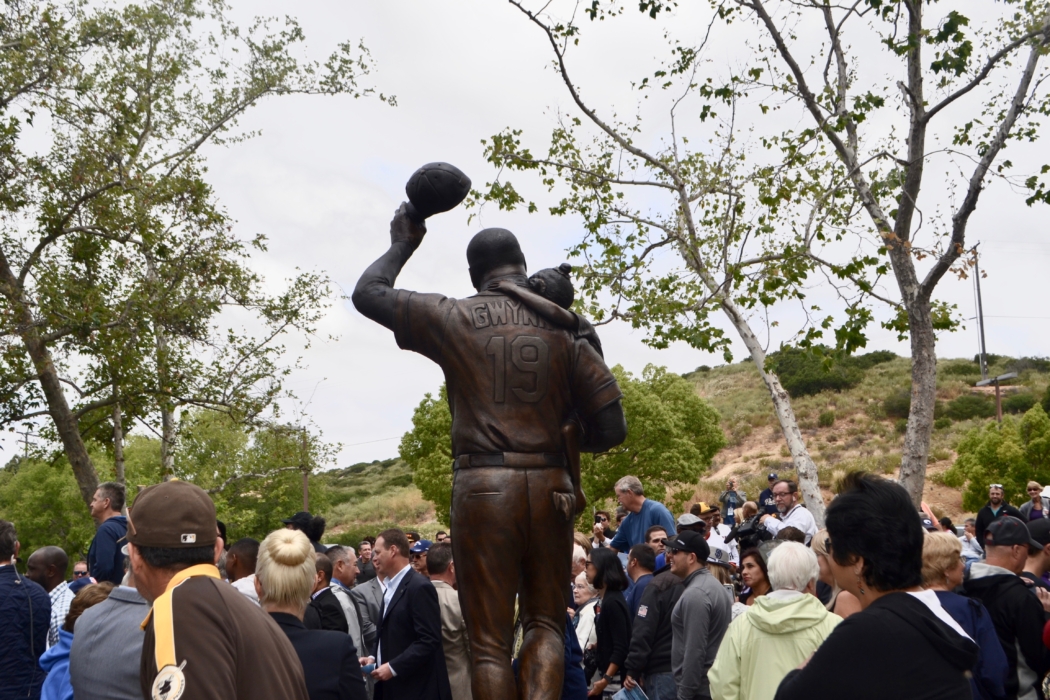 Today, May 9, would have been the 57th birthday of baseball great, Tony Gwynn. In celebration of his greatness, hundreds came out for the ceremony of an 11-foot tall bronze statue was unveiled at Lake Poway, in Gwynn's hometown of Poway, California.
During a ceremony to open the memorial plaza, where the statue stands at the center of the plaza. Poway residents, fans, friends and Wynn's family crowded around the area in celebration of San Diego's hometown hero, Mr. Padre.
The statue shows Gwynn, in Padres uniform, holding his daughter, Anisha Nicole Gwynn, when she was a child. A dedication ceremony included heartfelt tributes, from associates and family members to the man who's legacy lives on and continues to mean so much to the Poway and San Diego community.
Gwynn, originally from Los Angeles, was a longtime Poway resident when he passed away on June 16, 2014, at the age of 54 following a long battle with cancer.
Gwynn career consists of 3,141 hits, a .338 career batting average and was a 15-time All Star. His playing career ended in 2001, and he was subsequently picked as head baseball coach for SDSU.
During his playing career, Gwynn won seven Silver Slugger Awards and five Gold Glove Awards. His eight batting titles tied for second-most in Major League Baseball history. The Padres — the only Major League Baseball team for which he played — retired his number in 2004.