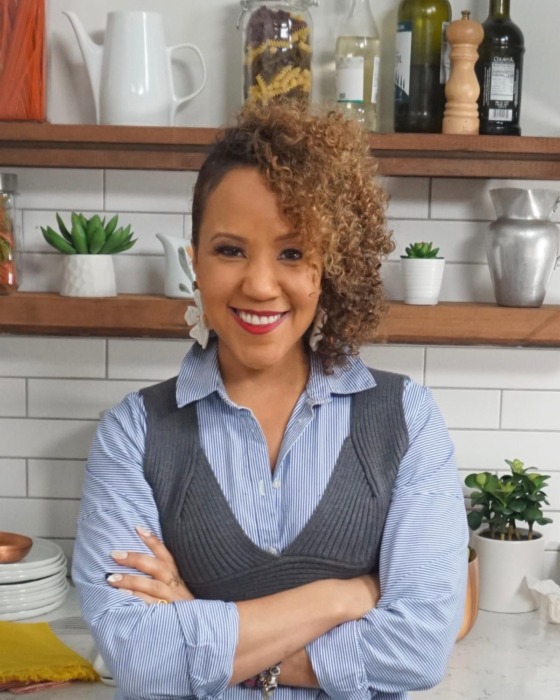 CLEO TV announced today the season two of New Soul Kitchen returns with a double-header on Saturday, October 3 at 9p.m. ET / 8C and 9:30p.m. /8:30C. 
Chef Jernard Wells returns to prepare even more robust recipes in the series' extended, 30-minute format. Acclaimed chef, cookbook author, and family man Chef Jernard is not only bringing his arsenal of down-home dishes to viewers, but is teaming up with four of America's most talented chefs to spice things up by incorporating their delicious mouth-watering recipes.
Each week, Chef Jernard welcomes one culinary guest including: Chef Ahki Taylor who specializes in Vegan cuisine, Chef Bren Herrera who gets spicy with her take on Latin fare, Chef Essie Bartels packs on the Ghanaian flavor, and Soul Food recipe developer Chef Resha Purvis who is known for her Instagram-worthy treats. On each episode, these chefs join forces to whip up a feast, while providing flavorful conversations on the side. In every episode, recorded pre-COVID-19, the culinary gurus explain their unique approaches to their favorite comfort foods, which are sure to inspire viewers to experiment while they continue to dine safely during quarantine.
Meet the versatile culinary influencers featured this season:
Chef Ahki Taylor is known as the "Wellness Guru to the Stars." Chef Ahki has worked as a celebrity chef, motivational speaker, and has authored many books. She's also a wellness influencer, and food vlogger. As one of today's most popular thought leaders, Chef Ahki has made it her mission to reinvent the look of the 'green movement' and spread her message of wellness by focusing on a plant-based diet.
Chef Bren Herrera is a bilingual, award-winning celebrity chef, and multi-media entrepreneur who fell in love with cooking at the age of 7-years-old. After leaving a lofty career in law, Bren turned to cooking as her way to celebrate her Afro-Cuban roots and entertain through dynamic experiences. In her soulful kitchen, she combines Cuba's vibrant palate, with modern flavors and textures, to create memorable and smart dishes.
Chef Essie Bartels started her culinary journey in her mother's tiny kitchen in Ghana where her love affair with spices was ignited. Her flavorful journey continued all over the globe, spurred by her insatiable appetite for travel. Chef Essie played with exotic palates; tested cuisines, and concocted condiments. As her experiments with spices grew, so did the demand for her homemade sauces which all boiled down to bottled up joy.
Chef Resha Purvis is a self-taught personal and private chef, YouTuber, blogger and mother to a beautiful boy. Sharing decadent recipes that have gotten the attention of the media and celebrities alike, Chef Resha continues to hone her skills while employing the power of flavor and technique. New Soul Kitchen is produced by Powerhouse Productions, with Rochelle Brown and Sonia Armstead serving as Executive Producers. For CLEO TV,
Susan Henry and Gold Morgan serve as Executives in Charge of Production; Donyell Kennedy-McCullough is Senior Director of Talent & Casting; and Robyn Greene Arrington is Vice President of Original Programming and Production. For more information about CLEO TV and its upcoming programming, visit the network's companion website at www.mycleo.tv.