Key points from 42nd President of the United States Bill Clinton's speech at the DNC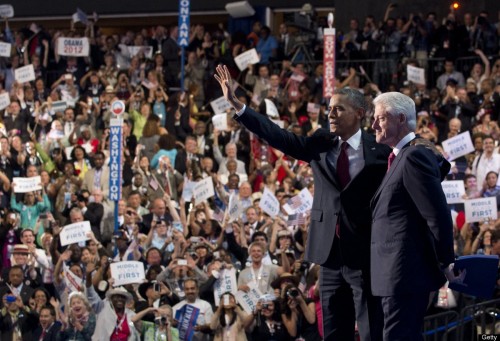 "One of the main reasons America should re-elect President Obama is that he is still committed to cooperation.  He appointed Republican Secretaries of Defense, the Army and Transportation.  He appointed a Vice President who ran against him in 2008, and trusted him to oversee the successful end of the war in Iraq and the implementation of the recovery act.  And Joe Biden did a great job with both.  He appointed Cabinet members who supported Hillary in the primaries.  Heck, he even appointed Hillary! I'm so proud of her and grateful to our entire national security team for all they've done to make us safer and stronger and to build a world with more partners and fewer enemies. I'm also grateful to the young men and women who serve our country in the military and to Michelle Obama and Jill Biden for supporting military families when their loved ones are overseas and for helping our veterans, when they come home bearing the wounds of war, or needing help with education, housing, and jobs.
President Obama's record on national security is a tribute to his strength, and judgment, and to his preference for inclusion and partnership over partisanship.
He also tried to work with Congressional Republicans on Health Care, debt reduction, and jobs, but that didn't work out so well.  Probably because, as the Senate Republican leader, in a remarkable moment of candor, said two years before the election, their number one priority was not to put America back to work, but to put President Obama out of work.
President Obama started with a much weaker economy than I did.  No President – not me or any of my predecessors could have repaired all the damage in just four years.  But conditions are improving and if you'll renew the President's contract you will feel it.
I believe that with all my heart.
I like the argument for President Obama's re-election a lot better. He inherited a deeply damaged economy, put a floor under the crash, began the long hard road to recovery, and laid the foundation for a modern, more well-balanced economy that will produce millions of good new jobs, vibrant new businesses, and lots of new wealth for the innovators.
Are we where we want to be? No. Is the President satisfied? No. Are we better off than we were when he took office, with an economy in free fall, losing 750,000 jobs a month.  The answer is YES.
I understand the challenge we face.  I know many Americans are still angry and frustrated with the economy.  Though employment is growing, banks are beginning to lend and even housing prices are picking up a bit, too many people don't feel it.
I experienced the same thing in 1994 and early 1995.  Our policies were working and the economy was growing but most people didn't feel it yet.  By 1996, the economy was roaring, halfway through the longest peacetime expansion in American history.
President Obama's approach embodies the values, the ideas, and the direction America must take to build a 21st century version of the American Dream in a nation of shared opportunities, shared prosperity and shared responsibilities.
The Republicans call it Obamacare and say it's a government takeover of health care that they'll repeal.  Are they right? Let's look at what's happened so far. Individuals and businesses have secured more than a billion dollars in refunds from their insurance premiums because the new law requires 80% to 85% of your premiums to be spent on health care, not profits or promotion.  Other insurance companies have lowered their rates to meet the requirement.  More than 3 million young people between 19 and 25 are insured for the first time because their parents can now carry them on family policies.  Millions of seniors are receiving preventive care including breast cancer screenings and tests for heart problems.  Soon the insurance companies, not the government, will have millions of new customers many of them middle class people with pre-existing conditions.  And for the last two years, health care spending has grown under 4%, for the first time in 50 years.
So are we all better off because President Obama fought for it and passed it? You bet we are.
Senator, I hate to break it to you, but we're going to keep President Obama on the job!