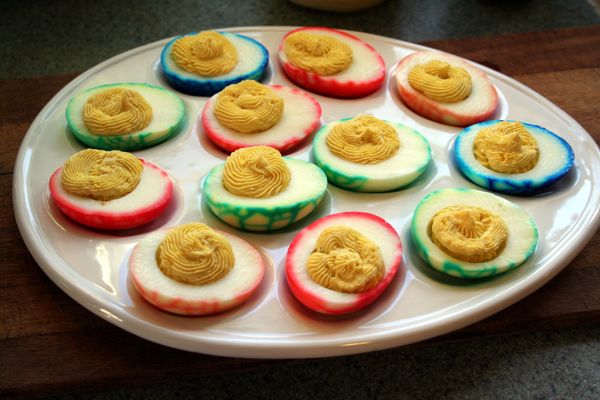 It's surprising  at how many eggs are sold during the week before Easter. According to the U.S. Department of Agriculture, 1.08 billion eggs were sold Easter week 2013, compared to 1.04 billion sold in each of the 51 other weeks.
Why is it that deviled eggs are so popular? "Maybe it's because deviled eggs are simple and versatile dish.
Here's a favorite recipe for soulful deviled eggs.
Ingredients
6 hard-boiled eggs, peeled and cut in half lengthwise
1/2 cup mayonnaise
2 teaspoons yellow mustard
2 tablespoons sweet relish, drained
 Paprika for sprinkling
Mix
In a small bowl, combine egg yolks, mayonnaise, mustard and relish; mix well.
Fill egg white halves with yolk mixture and place on a platter. Sprinkle each egg with paprika. Cover with plastic wrap and refrigerate until ready to serve.
Note:  For an added burst of flavor, sprinkle with some chopped cooked bacon pieces.
Inspired by source.