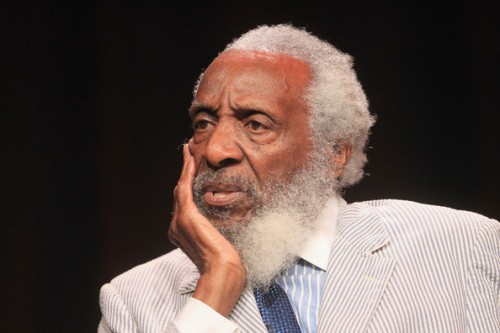 St. Louis native Dick Gregory will be the subject of the March 19 episode of Unsung Hollywood, airing on TV One at 10:00 PM/ET (9:00 PM/CT).  With credits that include comedian, civil rights soldier, author, and presidential and mayoral candidate, Gregory has harnessed his wit, spontaneity and fearlessness to knock down the doors of racism, intolerance and corruption for over six decades. Gregory is also available for interviews should you be interested in speaking with him in advance of the episode.
As a comedian and satirist, Gregory broke the color line for African American comics in clubs and on TV, and paved the way for countless comedians who followed. As a social activist, Gregory was politically engaged to a degree no comedian has ever been before or since, and was also a regular on the front lines of Birmingham and Selma, where he was jailed, beaten and blackballed.
In Gregory's episode of Unsung Hollywood, friends, family, civil rights leaders and fellow comics – including Bill Cosby, Dave Chappelle and Richard Belzer – weigh in on the man who changed the face of stand-up and officially ended the Jim Crow school of humor while raising the consciousness of the country and the world.