San Diego –  Kids Free in October, presented by ScholarShare brings 31 days of free admission for kids (with an adult purchase) to over 40 museums. To kick-off this extraordinary program, San Diego Museum Council and ScholarShare have teamed up with the Jacob's Center to create a free family day.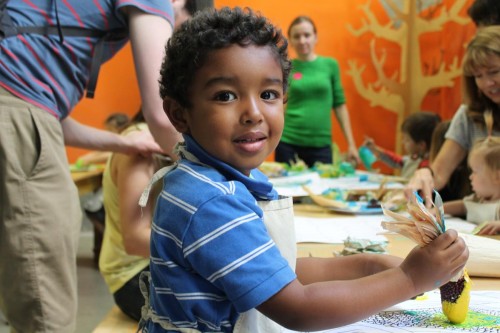 Titled "Museum Mash-up", this afternoon event will feature interactive fun from museums like Birch Aquarium, The New Children's Museum, San Diego History Center, San Diego Children's Discovery Museum and the Living Coast Discovery Center. Families will get the chance to (1)  explore what's new at various museums, (2) watch dance performances from local groups such as Future Shock (Culture Shock's high energy young dancers) and Ballet Folklorico,  (3) participate in a treasure hunt with prizes and (4) enjoy free samples of Rita's Ice.
Plus, at 2 pm there will be a special reading of the new Dr. Seuss book, "What Pet Should I Get?", by San Diego City  District 1 Councilmember Myrtle Cole.
Museum Mash-up will be held Sat., Oct. 3 from 1 – 4 p.m.  Guest emcee, Chloe Noelle, special Fox5 cub-reporter and TV star, will get the event kicked off.
Museum Mash Up is entirely free to the community thanks to generous sponsorship support from ScholarShare, Time Warner Cable, Jacobs Center for Neighborhood Innovation "Cultural Celebrations & Performances Grant Program", National Endowment for the Arts and the City of San Diego Commission for Arts & Culture.
The Jacobs Center for Neighborhood Innovation is located at 404 Euclid Ave.
San Diego, CA 92114. Free and easy parking is available on-site. Families will hear the music and fun coming from Celebration Hall, the main auditorium at Jacob's Center.
About the San Diego Museum Council
The mission of the San Diego Museum Council is to increase awareness, connect, provide services, and advocate for the diverse museums within its membership. With more than 40 unique museums as members, the Council strives to be a sustainable, prominent, and influential organization that represents San Diego County's museum community.
About Kids Free in October
Kids Free in October, presented by ScholarShare, California's 529 College Savings Plan, invites families to enjoy free admission for kids 12 and under with a paid adult ticket at participating museums across San Diego County. Valid for two children per paid adult. Families simply download a free voucher for each time they visit a participating museum at sandiegomuseumcouncil.org.
For more information, please visit www.sandiegomuseumcouncil.org or www.jacobscenter.org.