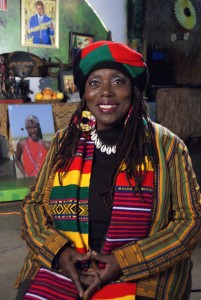 San Diego, CA, February 18, 2016 – In celebration of Black History Month and as part of its ongoing commitment to cultural diversity and responsible banking, Union Bank has partnered with KPBS to honor two inspiring local heroes. The 2016 Black History Month honorees are: Makeda Marianne Cheatom, founder, director and CEO of WorldBeat Cultural Center; and Marc Chery, librarian at the San Diego Public Library and a coordinator for One Book, One San Diego. They will be recognized in February at a private dinner celebration with their families and executives from KPBS and Union Bank.
Since 1998, KPBS and Union Bank have collaborated on the Local Heroes program and recognized more than 200 honorees. The program pays tribute to exemplary leaders who are making a difference and enriching the lives of others by improving their community, region and the world at large. The 2016 Black History Month honorees demonstrate a shared commitment to providing their communities with the tools to thrive in today's changing world.
"Union Bank is proud to partner with KPBS to recognize the vision, devotion and determination of these local heroes," said Pierre P. Habis, Head of Union Bank's Consumer and Business Bank. "We celebrate their commitment to improving and positively impacting our community."
"We're excited to join Union Bank to kick off 2016 by honoring these amazing local heroes," said Tom Karlo, KPBS general manager. "San Diego benefits from the tireless work of individuals like Makeda Cheatom and Marc Chery. We thank them for their contribution and the difference they are making not just in our community but in the world."
About the 2016 Black History Month honorees:
Makeda Cheatom serves as executive director and CEO of the WorldBeat Cultural Center. Dedicated, committed and determined to raise world consciousness through music, dance, and the arts, Ms. Cheatom founded WorldBeat Center more than 30 years ago with the goal of promoting unity in diversity while teaching world peace. Located in Balboa Park, WorldBeat Center offers a wide range of cultural programs, concerts, and classes such as drumming, yoga, Qigong, belly dancing, physical fitness, meditation and more and presents opportunities to urban dwellers, young and old, who might not otherwise have the chance to participate. WorldBeat Center also serves more than 6,000 children a year. Many classes take place in the center's Children's Ethnobotany Peace Garden; dedicated to teaching sustainable agriculture and nutrition while helping foster a deep understanding and respect for the earth.
Ms. Cheatom has received numerous awards for her community service, including recognition from the Women's Museum of California as a Multicultural Bridge Builder in 2012 when she was inducted into the Diego County Women's Hall of Fame. Her radio show, "Reggae Makossa," has been on the air for more than 25 years. She also produces her own community television show "WorldBeat Live."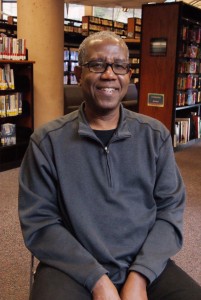 Marc Chery, is a librarian at the San Diego Public Library – Central Branch and currently the coordinator of One Book, One San Diego, a community reading program that aims to bring San Diego County residents closer together through reading and discussing one book.
Mr. Chery supported Black community organizations and efforts through his work at Malcom X Library where he previously served as Branch Manager. In this role, Mr. Chery created a community run library program to engage local residents. Mr. Chery has demonstrated deep commitment to peoples of the African migration and to promoting the art and literature of African American people. He has also been honored for supporting the work of African American women filmmakers like his wife and wrote a screenplay for her film "Compensation." Mr. Chery has served as a volunteer in Haiti's disaster recovery via a program called "Acupuncturists without Borders" and is among the first African American men in the country to call upon President Obama to support the important work of the African American Policy Forum (AAPF).
KPBS features a wide range of programming during Black History Month. For more information or to nominate a future local hero, please visit: www.kpbs.org/heroes or unionbank.com/heroes.