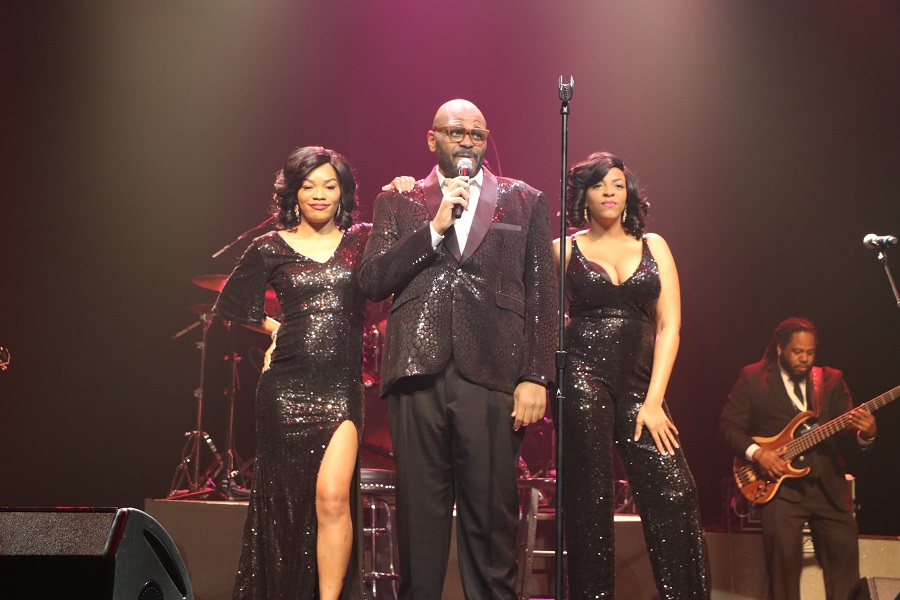 Welcome back, Velvet Teddy Bear! Ya'll do remember "American Idol" second- season winner Ruben Studdard, right? How can you forget that stellar vocal performance of Luther Vandross' "Superstar," which landed him a Grammy Award nomination for Best Male R&B Performance in 2003.
Well, last night Studdard performed at Sycuan Casino Live & Up Close in El Cajon, California singing numerous songs from Vandross, including a few of our favorites "So Amazing," "Never Too Much," "Bad "Boy Having A Party," and "Always and Forever."
We all know that the legendary Vandross is one tough act to follow, however, 39 year-old Studdard, is doing his best to make it work.

In fact, during the show he says, "I'm not Luther, I am Ruben."
Backed by a talented group of musicians, dressed in a sequined tux jacket, Studdard pulled off a smooth, melodic performance. Having two lively background singers (Karmessa Padgett, Kwamika Fletcher) with great harmonies, came pretty darn close to giving Studdard's show the Luther effect.
It's important to note that when Studdard gave it his all, by putting his own spin on a Luther tune, like "Superstar," he nailed it.
Studdard shared with the audience that he's been singing R&B, Gospel and R&B since he was a child. And, at nine years old he recalls being asked to sing "Always and Forever" at weddings.
Studdard says, that's he first became familiar with Vandross as a youngster, and that his mother was "one of the biggest Luther fans ever."
Since "Idol" Studdard has starred in a national tour revival of the musical "Aint Misbehavin," and in 2018 released "Ruben sings Luther," his most recent album. In his acclaim release of "Unconditional Love," in 2014, Studdard collaborated with multi-award winning producer and pianist David Foster.