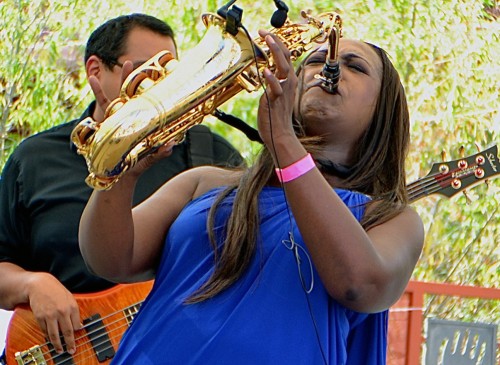 Jazz at the creek hosts artists of all ages and levels of expertise proving time and time again, smooth jazz is a genre that is ageless, priceless and dynamic – and for the last three months it's been accessible in a neighborhood haven, just off Euclid Avenue in beautiful San Diego, CA.
The last concert held at the creek on Saturday, July 12th was no exception and the talent on the stage – exceptional. Phil Perry, Jay Gore and Jeanette Harris were the lineup of talent, they ushered in their own climate to the stage, and did their part to raise the bar and the attendance record on July 12th – was a total sellout.
Phil Perry, a self-proclaimed romantic, transformed thirty tons of concrete, parachute tarps and landscaping into a jazz lover's playground. This velvet-voiced balladeer brought back memories for fans who remember him from his days with the Montclair's, his collaborations with artists like George Duke, Najee, Bill Withers, Barbra Streisand, Johnny Mathis, and now a recording legend in his own right.
Time has served to solidify him as a jazz treasure and he took everyone on a journey of hits from the 70's to the present such as, "Just Say Yes" and an ode to Earth, Wind and Fire's, "Can't Hide Love" the newest work from his latest CD titled, "Say Yes."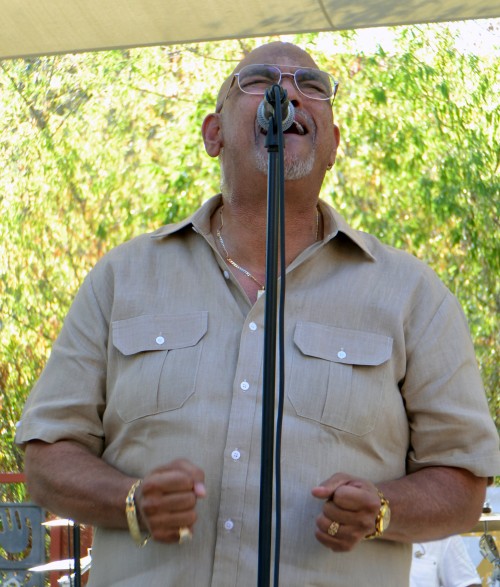 Love transforms and transcends all, according to Perry, who beamed as he introduced wife of 30 years to the crowd, spoke of his joys of fatherhood and their four children and how love continues to inspire him and his music.
Jeanette Harris was infectious on the saxophone, her own brand of funk and fire igniting the stage. Her renditions of R&B standards were crowd pleasers and had fans on their feet.  Some may recognize her from the "Ladies in Pink" band, but she is a standout talent with a megawatt smile and fine-tuned band of musicians.
Musical talents are not uncommon in the Harris family, brother, Michael, accompanied her on the drums along with the remaining musicians on keyboard and guitar that made up the "Jeanette Harris Band."
Guitarist Jay Gore brought a "different type of jazz to the creek," and shared a range of songs samplings inspired from other guitarists like his mentor, Paul Brown. The California native shifted gears and played a song from his latest project titled, Purple Shoes, a light-hearted melody with a catchy baseline.
Gore shared the limelight onstage with notable local saxophonists, Curtis Brooks, and composer, Willie Bradley on the trumpet. The set came to an end, but this collaboration on stage kept the crowd patting their feet, clapping their hands asking for more.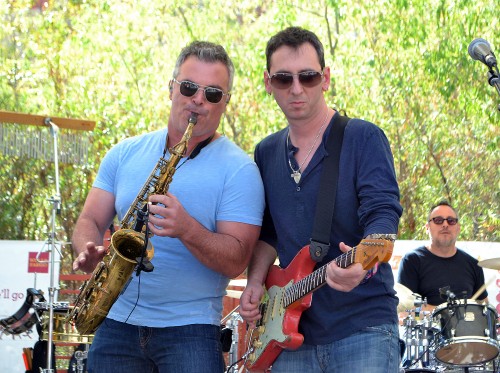 This series will wrap up with an all-male show next month with Warren Hill, Jay White and DW3 finishing out the 2014 concerts at the creek with a mix of music and magic.
To purchase tickets CLICK HERE.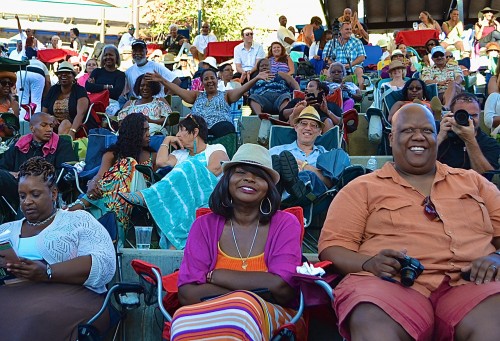 By:  Terri Fowler, MANDATE Records