My how time flies!
Now in its third year, Jazz at the Creek in San Diego, featuring a plethora of musicians has come to a smooth end.
For the summer that is.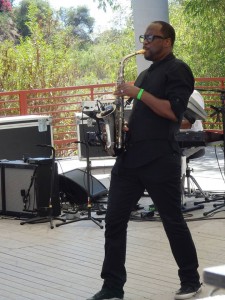 Artists closing out this year's lineup were the soulful sounds of Detroit native saxophonist JWhite. Currently a resident of Phoenix, White placed 2nd, in the 2014 Warren Hill Saxophone Summit–an educational summit for contemporary saxophonist's. An impressive talent with an easy, yet commanding stage presence, White, serenaded fans of all ages, including an impromptu performance for his 3-year old fearless daughter, which he brought up on stage. The adorable toddler had no problem grooving to the sounds of her father's sax.
Also invited up to share the stage with JWhite, and other performers throughout the series was a talented young Curtis Brook, a force to be reckoned with and, well on his way to becoming a jazz super star in his own right.
Next up to perform were R&B, Soul and Jazz artist DW3. Relatives of the 70's Latin group Tierra, perhaps best known for their hit, "Together."  Eric and William Mondragon, alongside DamonReel, three family members with smooth harmonies, which took the crowd back in time performing hits by: Earth Wind and Fire, Maze, Luther Vandross, Marvin Gaye and more. Furthermore, announcing to the crowd, "In case you hadn't noticed, we're Mexican." 
In deed they are, Mexican's with a tremendous amount of heart and talent for soul music, who connected quite well with the multi-cultural audience, that enthusiastically sang and dance right along with the group.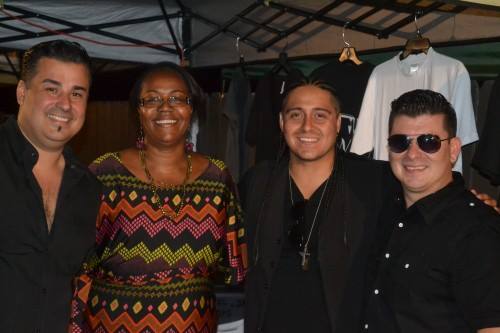 Last to perform was the incomparable saxophonist Canadian Warren Hill, accompanied by an amazing band that included a superb bass player.  Billed as the headliner for the series, Hill's performance connected well with the audience as he brought the layback crowd on their feet when he performed a classic cover of Wild Cherry's "Play That Funky Music White Boy."
Another highlight of Hill's performance was sharing the spotlight with his lovely 15-year old daughter, the musically gifted Olivia Rox. Olivia's vocal performance of the classic tune made famous by the late great Minnie Ripperton, "Loving You," was unbelievably pitch perfect.  Perhaps it's in the genes. Nonetheless, with that kind of talent and looks to boot, Olivia Rox is well on her way to super stardom.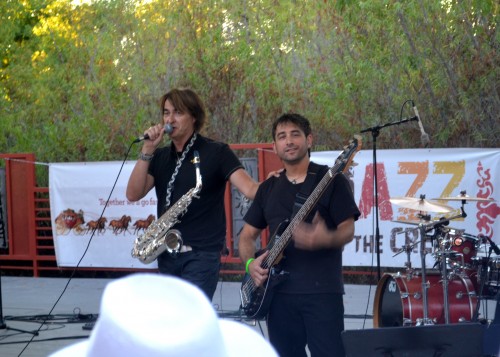 Organizers of the event M.A.N.D.A.T.E. Records, has consistently done a wonderful job of bringing talent to San Diego, to satisfy a wide range of musical cravings.  The entire series which runs from May to August was a well attended vibrant concert series, complete with good food, vendors and plenty of great musicians.
M.A.N.D.A.T.E. Records  hard work to bring in high caliber talent to Market Creek Plaza, a hidden gem located in the southeastern section of San Diego, is a great way to revitalize the underserved community.  Through building community partnerships, the record label and promotions company uses a portion of the proceeds to give back to the Food 4 Kids Backpack Program, implemented under the San Diego Food Bank for chronically hungry, elementary school students from low-income households, whose only meals are provided at school.
In case you missed this year, be on the look out for next year.  
For more information on Jazz at the Creek please visit: http://www.mandaterecords.com/