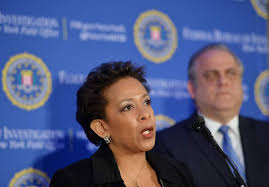 Senate finally voted to confirm Loretta Lynch. The 56-43 vote makes 55-year old Lynch, the first African-American female attorney general in U.S. history.
Obama nominated Lynch to replace Attorney General Eric Holder in November and her nomination cleared the Senate Judiciary Committee in February. Still, she waited longer than the seven most recent U.S. attorneys general combined for a vote on the Senate floor, after Majority Leader Mitch McConnell insisted on first finishing work on an unrelated bill.
Loretta Lynch's father, Lorenzo A. Lynch, was in the Senate gallery watching when the historic vote took place confirming her daughter as the first African American female attorney general.
"The good guys won. That's what has happened in this country all along," Lorenzo Lynch told reporters. "Even during slavery. Levi Coffin was a founder of the Underground Railroad. Even during slavery. A white man fought against slavery. So all over this land good folks have stood in the right lane, in the right path."
Born in Greensboro, North Carolina, Lynch grew up 60 miles east of Durham, North Carolina. Her father was a fourth-generation Baptist minister; her mother, an English teacher and school librarian. As a child, Lynch rode on her father's shoulders to his church, which served a meeting place for students organizing anti-segregation boycotts in the early 1960s, she told the Judiciary panel at her January confirmation hearing. Lynch graduated from earning a BA in English and American Literature from Harvard College and a Juris Doctor from Harvard Law School in 1981.
Source:  CNN