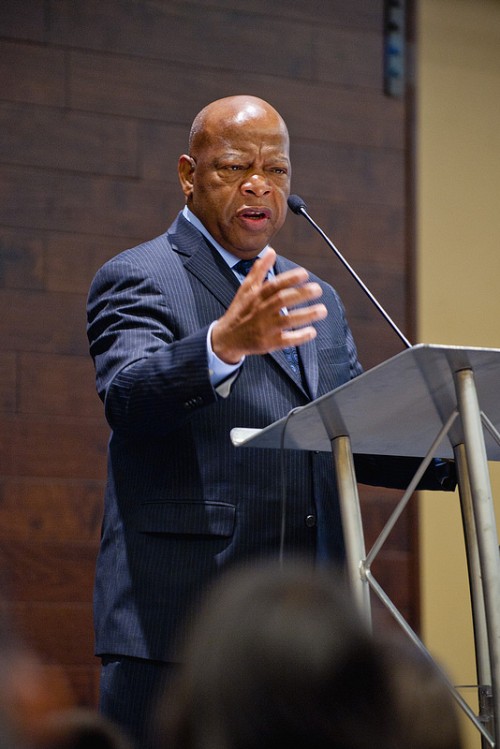 (San Diego, CA) Trailblazer John Lewis, a champion for civil rights, international icon and well respected member of Congress, made his rounds in San Diego over Comic-Con week-end.
This past Sunday, nearly 800 people filled the Jacobs Center's Celebration Hall to listen to Congressman Lewis, Andrew Aydin and Nate Powell discuss their best-selling graphic novel series MARCH.  Lewis, and his award-winning graphic novel collaborators.
March, is a multi-part graphic novel autobiography giving the reader a first-hand experience on the milestone events that transformed the nation, including the 1961 Freedom Rides and the 1963 March on Washington. 
The motivation behind writing a graphic novel, Lewis says is because of the impact that the 1957 comic book, "Martin Luther King and the Montgomery Story" had on him, and his entire generation, inspiring them to take up nonviolence and join the Civil Rights Movement.
Lewis along with co-creators Aydin and Powell, discussed with audience members of the diverse community, the lessons of civil rights, nonviolent activism and youth empowerment.
Five hundred sets of the graphic novels March: Book One and Book Two were donated to students in Southeastern San Diego.  Students from: Bayview, Elementary Institute of Science, Oak Park Elementary, Jackie Robinson YWCA, and the energetic Thundersquad of Heartbeat academy performed at the event.
Books were also onsite to purchase.
Valarie Jacobs Hapke and her husband Norm Hapke both membrs of the board of directors for the Jacobs Center and the Jacobs Family Foundation provided the book donations.
Here's a quote by John Lewis:
"History tells us that we must never give up.  That we must never ever give in or give out. That we must not get lost in a sea of despair. That we must keep all the faith.  The we must keep our eyes on the prize."
About March:
March has become a key resource to teach the next generation about a pivotal moment in our nation's history. It's been adopted in classrooms nationwide, spent 40 weeks on the New York Times Bestseller List, and even become the first graphic novel to win a Robert F. Kennedy Book Award. As America continues to grapple with issues of race and the legacy of the civil rights movement, March offers an unforgettable success story and a way forward — one that's already been embraced by countless readers who are looking for hope today.