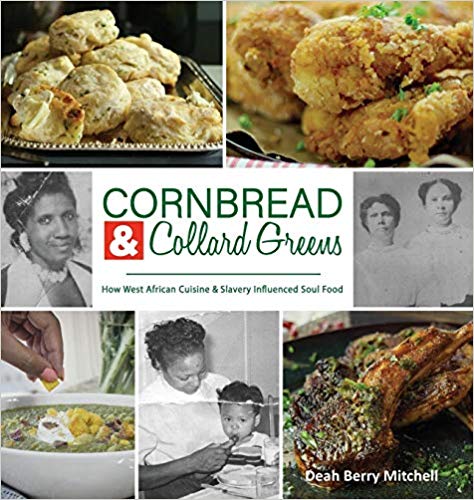 I'm always looking for a good soul food recipe, and I'm excited to report that I've found several in the book Cornbread & Collard Greens, How West African Cuisine & Slavery Influenced Soul Food (Opportune Independent Publishing), written by Deah Berry-Mitchell.
Filled with 100 pages of stunning food photo's and rich recipes, the book highlights three sections: Home, which explores the cooking techniques that the slaves brought over during the transatlantic slave trade. Rations, describing food portions that slaves were served as a mind control tactic of the slave-master. And, Creativity to describe the creative skills that slaves used to enhance foods.
In her first cookbook, Berry-Mitchell does a remarkable job of rich storytelling by drawing on personal childhood memories, inserting powerful quotes and African proverbs at the beginning of each section, while blending traditional recipes and gourmet dishes.
Every recipe begins with a poignant story of her personal connection to food. The author features foods and cooking techniques brought from West Africa during the transatlantic slave trade—Black-eyed peas, rice, yams, gumbo, okra and peanuts to name a few, all that have become staples in black homes and soul food restaurants from around the country.
What's also important to note is that, Berry-Mitchell, has managed to weave inside of the pages of deliciousness, several healthy recipes including a Vegan Mac and Cheese with Kale.
I made the sweet and savory candied bourbon whipped sweet potatoes and served them at a Black History Month family potluck. Let's just say they were a hit. As my mama would say,
"These sweet potatoes are so good they make you wanna slap yo mama!"
Cornbread & Collard Greens, How West African Cuisine & Slavery Influenced Soul Food is available on Amazon.com.