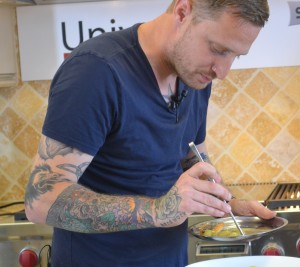 (Studio City, CA) Michael Voltaggio, a thirty-four-year-old from Maryland, has already gained nineteen years of experience in the restaurant industry and has won numerous awards for his outstanding culinary achievements. This current Pasadena resident has served as Chef de Cuisine in some of the most prestigious hotel dining rooms in America, including the dining room of the Ritz Carlton in Naples, Florida. As if being a chef in many amazing restaurants is not impressive enough, Voltaggio has also won several culinary awards, including the "AAA 5 Diamond" award. This outstanding culinary master's crowning accomplishment, however, was his victory in the sixth season of Bravo's Top Chef, in which Voltaggio showed his skill in preparing mouth-watering meals to satisfy even the most critical food industry judge.
On Saturday, September 7, The Chocolate Voice had the chance to see Chef Voltaggio do what he does best, which is entertaining and preparing delicious food. Chef Voltaggio, along with his colleague Cole, gave the crowd a sneak peek into his world of American cuisine at Universal Discoveries: The Limitless Kitchen, located at Universal Appliance and Kitchen Center where he revealed the recipes to several of his creative dishes.
The cooking demonstration took place inside the spectacular Studio City showroom which features among the leading brands matched with style in home appliances, allowing the chef to demonstrate his amazing culinary skills.
The humble Top Chef winner explained alternative cooking techniques and also gave a special shout out to the interns at his restaurant, Ink, who help him prep the food, and, for lack of a better phrase, do the grunt work.
From cuttlefish chicharon to pea sauce made in a juicer, his unconventional culinary methods prove to be both sustainable and very tasty.  And although he may or may not have cringed at the word vegan¸ his delicious meals cater to health conscious crowds as well. The only question is: what challenge will Chef Michael Voltaggio take on next? Our vote at The Chocolate Voice is that he will tackle gluten free soul food cuisine – but for now the cuttlefish chicharon will suffice.
For more information on top performing beautiful appliances check out Universal Appliance and Kitchen Center.