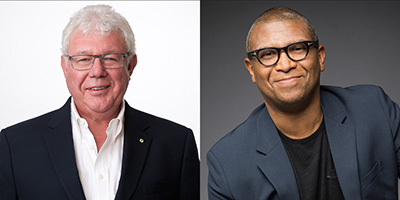 LOS ANGELES, CA — Emmy®-winning live television producer David Hill and Oscar®-nominated producer-director Reginald Hudlin will produce the 88th Oscars telecast, Academy President Cheryl Boone Isaacs announced today.  It will be their first involvement with the Academy Awards®, which will air live on the ABC Television Network on Oscar Sunday, February 28, 2016.
"We're delighted to have this talented team on board," said Boone Isaacs. "David is a true innovator with a dynamic personality.  His vast experience as a live events producer, coupled with Reggie's energy, creativity and talent as a filmmaker, is sure to make this year's Oscar telecast a memorable one."
"What a great and exciting honor!  The quest is to honor the year in film, honor the art, and above all, make it fun," said Hill.
"I'm looking forward to working with the Academy again," said Hudlin.  "I love every kind of film and this year's awards will be a celebration of the total range of cinema."
"We're excited to work with David and Reggie," said Academy CEO Dawn Hudson.  "With their enthusiasm and breadth of experience, they will bring a fresh perspective to the Oscar show."
Hill began his career with parent company News Corporation in Great Britain, where he helped launch Sky Television, introduced the multilingual sports channel Eurosport, and created the hugely popular subscription channel Sky Sports.  While he has contributed to hundreds of Emmy nominations and awards for the network, Hill received an individual Emmy for Outstanding Live Sports Special as an executive producer of the 2011 World Series broadcast.  He also served as an executive producer on the last two seasons of "American Idol."  He recently left Fox to start his own production company, Hilly, focusing on live and reality television.
A writer, director, producer and executive, Hudlin received a 2012 Best Picture Oscar nomination as a producer of "Django Unchained."  Hudlin's film credits include "Boomerang," "The Great White Hype" and the award-winning comedy "House Party," which he also wrote.  He executive produced the hit television series "The Boondocks" and "The Black Panther"; and has directed for "Modern Family," "Murder in The First," "New Girl" and "The Office."  Last year, Hudlin produced the Academy's 6th Annual Governors Awards ceremony and has been the executive producer of the NAACP Image Awards since 2012.  Hudlin was the first President of Entertainment for BET Networks from 2005 to 2009, where he oversaw programming and developed some of the network's highest rated shows during his tenure.  He is a partner in Milestone Media, a multi-ethnic comic book company distributed by DC Comics, as well as New Nation Networks, a premium content provider in partnership with Google.  Hudlin is a member of the Academy of Motion Picture Arts and Sciences, Directors Guild of America, Writers Guild of America, Producers Guild of America and Screen Actors Guild.  He serves on the executive board of the UC