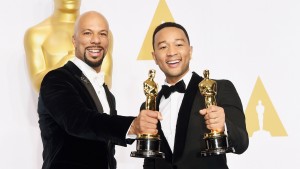 LOS ANGELES, CA – The Academy of Motion Picture Arts and Sciences is extending invitations to join the organization to 322 artists and executives who have distinguished themselves by their contributions to theatrical motion pictures.  Those who accept the invitations will be the only additions to the Academy's membership in 2015.
"It's gratifying to acknowledge the extraordinary range of talent in our industry," said Academy President Cheryl Boone Isaacs.  "This year, our branches have recognized a more diverse and inclusive list of filmmakers and artists than ever before, and we look forward to adding their creativity, ideas and experience to our organization."
Here's a stellar list of distinguished talent invited to join:
Malcolm D. Lee is among seven individuals who has been invited to join the Academy by multiple branches.  One branch upon accepting membership.
The new invitations came as The Hollywood Reporter revealed a list of 67 candidates running for open positions on the Academy's board of governors, includes Selma director, Ava Duvernay.
Here is a short list of some of the invitees:
Kevin Hart – "The Wedding Ringer," "Ride Along"
Gugu Mbatha-Raw – "Beyond the Lights," "Belle"
David Oyelowo – "Selma," "A Most Violent Year"
Dev Patel – "The Best Exotic Marigold Hotel," "Slumdog Millionaire"
F. Gary Gray – "The Italian Job," "Friday" Director
Stan Lathan – "Beat Street," "Amazing Grace" Director
Malcolm D. Lee – "The Best Man Holiday," "The Best Man" Director
Rick Famuyiwa – "Dope," "The Wood"
Lewis Erskine – "Free Angela: And All Political Prisoners," "Jonestown: The Life and Death of Peoples Temple"
Effie T. Brown – "Dear White People," "Real Women Have Curves"/Producer
Mellody Hobson, Executive
John Stephens – "Selma," "Django Unchained"  Music (John Legend)
Lonnie Lynn – "Selma," "Freedom Writers" Common
Gordon Quinn – "Life Itself," "Hoop Dreams"
Pratibha Parmar – "Alice Walker: Beauty in Truth," "A Place of Rage"