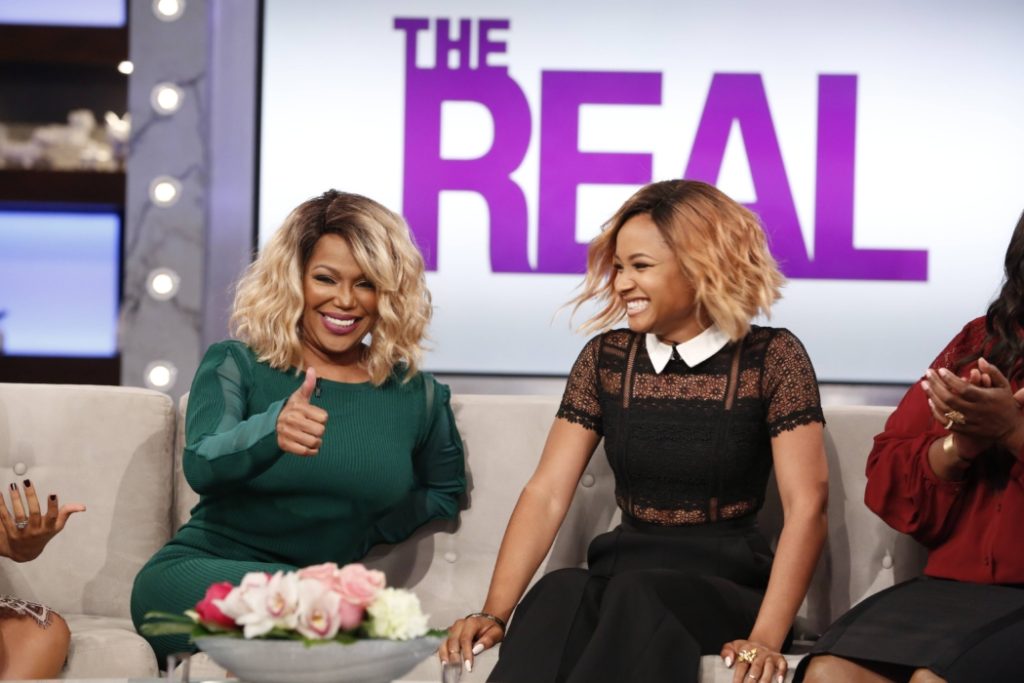 Photo credit: Robert Voets/Warner Bros. Television
On Thursday, October 13, former Death Row singer Michel'le reveals to the hosts on The Real how making the Lifetime movie, Surviving Compton: Dre, Suge & Michel'le, shed a light on her tumultuous relationships with former husband Suge Knight and ex-boyfriend Dr. Dre, will help women find their inner power against abuse.  Actress Rhyon Nicole Brown, who plays Michel'le in the biopic, shares her tips for emulating Michel'le's pitch perfect vocals with the ladies.
Here's an excerpt of tomorrows interview:
Tamera Mowry-Housley: Michel'le, what do you want people to take away from seeing this movie?
Michel'le: Um, I want people, I want woman especially to take away from this that you should know your power by ten years-old. You have to understand, we actually birth the men, we raise the men and then we have to go out and find one for ourselves and raise again.
Michel'le: We're very powerful human beings. And I want women to look at this and say, "All these things that I went through… They are not mistakes. They are not regrets. They were obstacles." And I think if women start looking at things that way and knowing who they are. And they can do things, you're already whole, he makes you just a better whole. But use your strength and if you start early, I want them to take that away from this film.
Tune-in to The Real on Thursday, October 13th check your local listings for schedule.