BLACK DOLLS opened at Mingei International Museum in San Diego on February 7, 2015 and will run through July 5, 2015.
This new exhibition presents a collection of 125 unique,
handmade African American dolls made between 1850 and 1940, on view publicly for the first time. Faithful yet stylized representations of young and old African Americans, the dolls portray playful boys and girls, finely dressed gentlemen and elegant young ladies, distinguished older men and stately,
determined women of mature years.
The dolls are believed to have been created by African Americans for children that they knew members of their own families and communities as well as white children in their charge. Embroidered, stitched and painted faces express a variety of emotions -surprise, puzzlement, contentment and joy. The dolls featured are constructed with mixed media using materials on hand.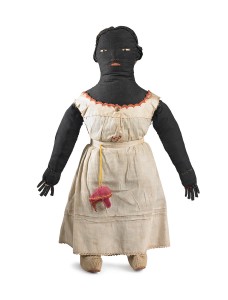 A number of dolls are simply presented, while others wear elaborate clothing including undergarments, coats, hats, shoes and accessories. Many were made of leftover materials, including precious bits of lace, ribbon and selvage. Several dolls have delicate paper clothing, teeth and eyes; others have a small piece of wood or leather inserted under the fabric to form a nose. Some dolls have heads made from coconut shells, leather-wrapped heads and
limbs, or make use of manufactured doll parts.
BLACK DOLLS also includes a selection of rare 19th and 20th century photographs of dolls, posed alone or clutched by their young owners; these provide a historical context for these handmade and cherished companions.
Mingei International Museum presents BLACK DOLLS as an art exhibition, while understanding that these objects may be touchstones for a range of experiences and emotions. While little information is known about the history of the individual dolls, each one has a story to tell: stories of the makers, stories of the children who played with and treasured them, stories lived out through each dolls use and the stories that we each bring to them when viewing this exhibition.
To illuminate these stories and to honor Black History Month, the Museum has collaborated with several artists and community arts organizations to develop a robust calendar of public programs and events related to the exhibition.
BLACK DOLLS is the fourth exhibition in Mingei International Museum's 18-month exhibition theme AMERICAN ICONS – Celebrating Folk Art, Craft and Design from Coast to Coast.
Learn more at www.mingei.org/americanicons
PUBLIC PROGRAMS
FILM SCREENING – Why Do You Have Black Dolls?
Wednesday, February 25, 6-8pm
A film screening and discussion of the award-winning documentary, Why Do You Have Black Dolls?, with the film's director and producer, Samantha Knowles.
Knowles will be joined by Mingei staff and Gaidi Finnie of the San Diego African American Fine Arts Museum to discuss the film and the exhibition BLACK DOLLS.
Free with Museum Admission