Things haven't gone as some had expected….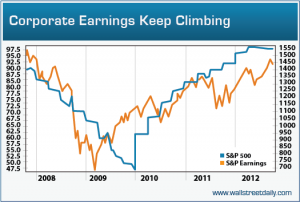 Ahh…the Davos Forum of 2013, held in Switzerland, where the oracles of all knowledge across world governments, economics, business and technology go to attend expensive soirees and bestow upon us Lilliputians what is going to happen in the year ahead.  The powers of divination concluded their self-romancing spectacle over the weekend.  To paraphrase the esteemed economist and New York University Professor Nouriel Roubini, also known as "Dr. Doom," as far as the Euro Zone crisis was concerned the situation was "less worse than it was last summer."  You don't say?  European Central Bank President Mario Draghi, an actual player in the financial events of the world eluded towards positivity, saying the worst of the Euro Zone Crisis was probably over and that the situation is more favorable than it was at this same time last year.  Cheers for a few words of optimism.   Alas, Billionaire investor George Soros is predicting "riots on the streets that will lead to a brutal clampdown that will dramatically curtail civil liberties. The global economic system could even collapse altogether."
Here in the good 'ole USA, we are in the throes of corporate earnings season.  Of the 134 S&P Index companies that have thus far reported earnings for the fourth quarter 2012, 69% have reported earnings above estimates.  In terms of revenues, 64% of companies have reported sales above estimates.  Both percentages are well above the average recorded over the past four quarters, which is quite remarkable and sends an abrupt shot across the bow of the Doom and Gloom crowd here, which unfortunately were actually ecstatic after a decline in earnings growth in Q3 2012 of only -1%.  The S&P index is reporting earnings growth of 2.3% for Q4 2012, and six of the ten sectors are reporting earnings growth for the quarter.  For more economic insight, visit:  http://downloadmyebook.com/cyoung
I remain optimistic.  The reporting corporations are showing higher profit margins.  If growth continues at this pace, which I believe it will, those same profit margins will begin to decline with an increase in revenues and gross earnings.  Call it a rebalancing.  Interest rates will rise, mandating more government expenditures, and the byproduct will be more alternatives to the stock market.  The economic rebound led by employment will continue to increase and business and consumer investment will grow as we move through the year.
Dempster R. "Bobby" Cherry
Investment Advisor