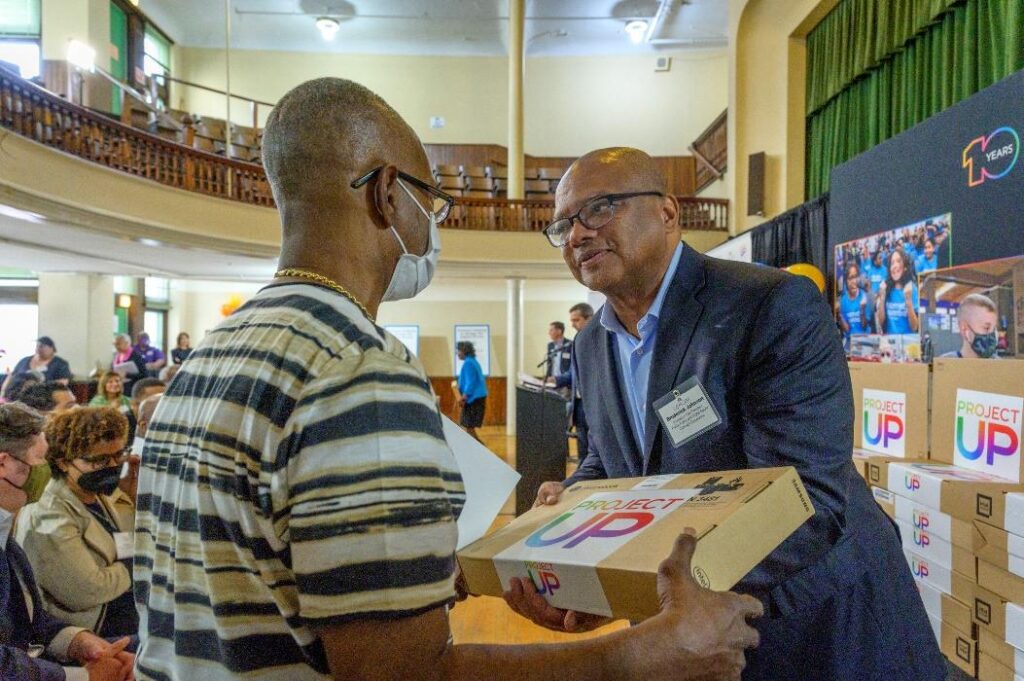 The grants follow the announcement of a nationwide study by the Boston Consulting Group, which found that Digital Navigators are critical to closing the digital divide and reducing socioeconomic inequalities by helping more people get online. Digital Navigators are individuals affiliated with trusted community organizations who are trained to help people access the Internet, use devices, and build digital skills.
The study surveyed 1,500 individuals across the country who received support from a Digital Navigator. With the support of these digital case workers:
More than 65 percent of survey respondents said they obtained Internet access or a computer or tablet at home; among Hispanic and Black Americans, this increased to 72 percent.
More than 85 percent of all respondents said they used the Internet more frequently.
Almost half surveyed obtained better healthcare, and 40 percent received support with basic needs like food, rent, and housing.
1 in 3 found a new job or earned a higher income.
"We're so grateful to Comcast for its ongoing efforts to advance digital equity," said Alisha Bell, Chair of the Wayne County Commission. "This is a company that understands the barriers to adoption and continues to make meaningful investments to help and encourage our residents to get online."
"Community organizations are the backbone of every city, and when they're empowered with resources they need to broaden their scope of work in digital equity, the possibilities are unlimited," said Broderick Johnson, Executive Vice President, Public Policy and Executive Vice President, Digital Equity, at Comcast. "For over a decade, Comcast has invested in communities to bridge the digital divide, and we are excited for this new chapter of impact with Digital Navigators in Detroit. With both their expertise and local ties, they hold the key to making real
transformative change happen for families across the city."
In addition to the grants, Comcast donated 100 laptop computers to various nonprofit community partners to further support the Detroit residents they serve.
"St. Patrick Senior Center is well aware of the need for digital inclusion, equity, and adoption", said SaTrice Coleman-Betts, executive director of St. Patrick Senior Center. "With the support from Comcast, we are ready to provide information on the Affordable Connectivity Program and teach digital skills to enhance the lives of our seniors."
About Comcast in Detroit
Comcast has been a part of the Detroit community since 1994. The company currently offers a fast and secure Internet connection to households and businesses throughout the entire city. Additionally, Comcast has worked with community organizations to open 29 Lift Zones in Detroit, and 59 statewide, places that offer free Wi-Fi access and access to digital support. Most recently, in April, Comcast kicked off a nationwide digital equity tour in Detroit to help drive community awareness around the Affordable Connectivity Program (ACP) and ways to eliminate the barriers to digital adoption, including cost, equipment and digital skills. As part of that commitment, Comcast donated 125 laptops to various nonprofit community partners to further support the Detroit residents they serve.
These efforts are part of Comcast's ongoing work to advance digital equity and help provide underrepresented small business owners with access to the digital tools and funding. Through Project UP, Comcast has committed $1 billion over the next 10 years to programs and partnerships that will reach tens of millions of people with the skills, opportunities, and resources they need to succeed in an increasingly digital world.
About Internet Essentials
In 2011, Comcast launched Internet Essentials, the nation's largest and most successful private- sector low-income broadband adoption program; since launch it has connected over 10 million people to the Internet at home, most for the very first time. It recently launched Internet Essentials Plus, a service that includes high-speed Internet, a cable modem, access to millions of WiFi hotspots, and unlimited data for $29.95 per month. Any Xfinity customer across all Comcast's markets who qualifies for the Affordable Connectivity Program (ACP) can apply their $30 credit toward their monthly Internet and/or Xfinity Mobile bill. Customers can visit http://www.xfinity.com/acp or call 844-389-4681 for more information, to determine eligibility, and sign up. A dedicated ACP Enrollment and Support Center is available from 8AM to 12AM daily, with multi-lingual capabilities to assist anyone interested in the program.
About Comcast Corporation
Comcast Corporation (Nasdaq: CMCSA) is a global media and technology company that connects people to moments that matter. We are principally focused on connectivity, aggregation, and streaming with 57 million customer relationships across the United States and Europe. We deliver broadband, wireless, and video through our Xfinity, Comcast Business, and Sky brands; create, distribute, and stream leading entertainment, sports, and news through Universal Filmed Entertainment Group, Universal Studio Group, Sky Studios, the NBC and Telemundo broadcast networks, multiple cable networks, Peacock, NBCUniversal News Group, NBC Sports, Sky News, and Sky Sports; and provide memorable experiences at Universal Parks and Resorts in the United States and Asia. Visit www.comcastcorporation.com for more information.