On Saturday, November 10, Disney Channel hosted the movie premiere and story book launch for Disney Junior's "Sofia The First: Once Upon a Princess" and the launch of the Sofia The First illustrated storybook.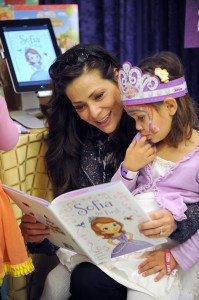 "Sofia the First: Once Upon A Princess" stars the voices of Ariel Winter ("Modern Family") as Sofia; Sara Ramirez ("Grey's Anatomy") as Queen Miranda; Wayne Brady ("Let's Make A Deal") as Clover; Tim Gunn ("Project Runway") as Baileywick; Darcy Rose Byrnes ("Desperate Housewives") as Amber; Zach Callison ("Land of the Lost") as James; Travis Willingham ("Ultimate Spider-Man") as King Roland II; Jess Harnell ("Doc McStuffins") as Cedric; Ashley Eckstein ("Star Wars: The Clone Wars") as Mia the Bluebird and Meghan Strange ("Special Agent Oso") as Robin. Disney Legend Russi Taylor (Minnie Mouse), Barbara Dirickson and Tress MacNeille (Daisy Duck), bring Fauna, Flora and Merryweather, respectively, to life. Jennifer Hale provides the voice of Cinderella.
"Sofia the First" cast members were joined by celebrity guests and their families at the movie premiere and storybook launch for Disney Junior's "Sofia the First: Once Upon A Princess" at The Walt Disney Studios in Burbank, California on November 10.  Created for kids age 2-7 and their families, the movie makes its world premiere SUNDAY, NOVEMBER 18 (7:00-8:00 p.m. ET/PT) on Disney Channel and THURSDAY, NOVEMBER 22 (9:00-10:00 a.m. ET/PT) on Disney Junior, the 24-hour channel.Sofia (voiced by Winter) is an average girl whose life suddenly transforms when her mother, Queen Miranda (voiced by Ramirez), marries the king and she becomes a princess.  Sofia soon discovers that looking like a princess isn't all that difficult, but displaying honesty, loyalty, courage, independence, compassion and grace is what makes one truly royal. Helping Sofia in her journey are the three headmistresses of Royal Prep Academy – Fauna, Flora and Merryweather (the beloved fairies seen in Disney's classic "Sleeping Beauty") and royal steward, Baileywick (voiced by Tim Gunn), as well as a group of cute woodland creatures led by wise-talking rabbit, Clover (voiced by Brady). The enchanting animated Disney Junior television movie for the whole family will air November 18 on Disney Channel and November 22 on Disney Junior.