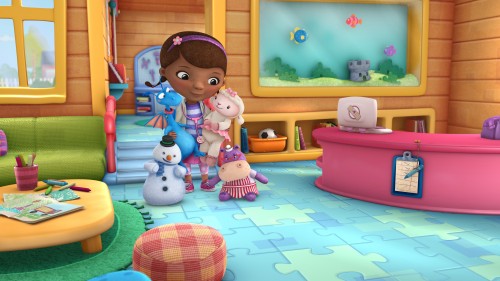 When I first saw the animated Disney series Doc McStuffins, I thought, 'Brilliant, this is just what the doctor ordered,' especially for little chocolista's. (That's right, we made up the word.)
The message of becoming a doctor is certainly empowering all little all little girls, which is why I'm thrilled that my adorable little granddaughter, who's only a year in a half doesn't miss an episode.
In the latest episode, Doc treats Curly Q, a doll with natural thick, brown curls. Sadly, Curly Q loves everyone else's hair except her own. Doc's mom, who is also a physician, reminds Doc that even she didn't like her curly hair until she found her signature pigtails and purple headband.
BRAVO to the Disney channel for promoting media that teaches little girls to embrace their natural tresses.
The episode titled "Take Your Doc to Work Day" episode aired on Thursday, April 24 at 9:30 a.m., ET/PT on the  Disney Channel.