(San Diego, CA) On October 2nd, the district offices of Assembly member Shirley N. Weber of the 79th district celebrated its grand opening.
A lively and festive open house took place in celebration of the assemblywoman's new offices, located in the heart of  downtown San Diego, located at 1350 Front Street, Suite 6046.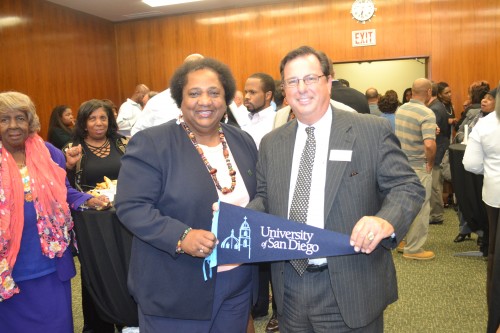 In attendance was an overwhelming support from the community and elected officials who celebrated alongside the assemblywoman, Weber.  Among the dignitaries who attended the special event were: Councilmember Marti Emerald, Assembly Majority Floor Leader Toni Atkins, Lemon Grove Councilmembers George Gastil and Racquel Vasquez and, San Diego Unified School District Board Trustee Marne Foster and more.
The celebration included live music, from American Idol season 12 contestant, vocalist Marvin Calderon, and Saxaphonist, Earl Vaults.  Supporter's were treated to an excellent cuisine from a variety of local cultural restaurants.
Assemblymember Weber announced at the gathering that, AB 56, which will require carbon monoxide detectors be installed in all public and private school buildings, was signed into law by Governor Brown earlier that day.
AB 56 requires the State Fire Marshal to propose appropriate standards for the installation of carbon monoxide devices in school buildings, by January 1, 2015. With this guidance, the California Building Standards Commission will then include the standards in the 2016 California Building Standards Code, and any public or private school buildings built after these codes have been adopted in 2016 will be required to install carbon monoxide detectors.
Assemblymember Weber, was elected in November of 2012 to represent California's 79th Assembly District, which includes the cities of Chula Vista, La Mesa, Lemon Grove, National City and a part of San Diego. She is the first African-American to be elected to office South of Los Angeles.

The district offices are located at: 1350 Front Street, Suite 6046, San Diego, CA  92101, Tel: (619) 531-7913.