(San Diego, CA) The first thing you need to know about Diversionary Theatre's zany production of Scrooge in Rouge is that it's okay to kick tradition in the Dickens—Charles Dickens that is.
Presented in a high energy and over-the-top fashion, the production features three talented actors who masterfully play 23 characters in drag. Samantha Ginn (Vesta), Tony Houck (Lottie), who's also the director, and Justin Warren Martin (Charlie) are all laugh-out-loud funny and present this hilarious story in an unforgettable fashion.
This will be the production's third showing at Diversionary Theatre, and it will also be Houck's third time playing Lottie!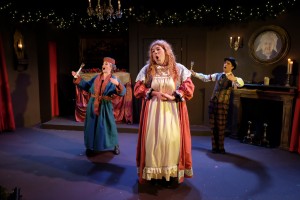 Ricky Graham, who wrote the book and lyrics for the show, has transformed the Dickens classic, A Christmas Carol, into a hilarious comedy featuring a cross-dressing version of Ebenezer Scrooge.
The festive holiday production moves at a fast pace, allowing the actors minimal time for quick costume changes. Jennifer Brown-Gittings, the costume designer for the show, deserves a shout-out for her amazing period piece designs.
Another special shout-out  goes to set designer David Medina, whose creative eye for Holiday décor and, Luke Olson's lighting will surely get viewers into the Holiday spirit.
Note: Scrooge in Rouge is both naughty and nice, and most importantly it's a show for everyone else!
Not recommended for children.
The production is scheduled to run December 7 through December 29.  For more information visit www.diversionary.org.