By DL White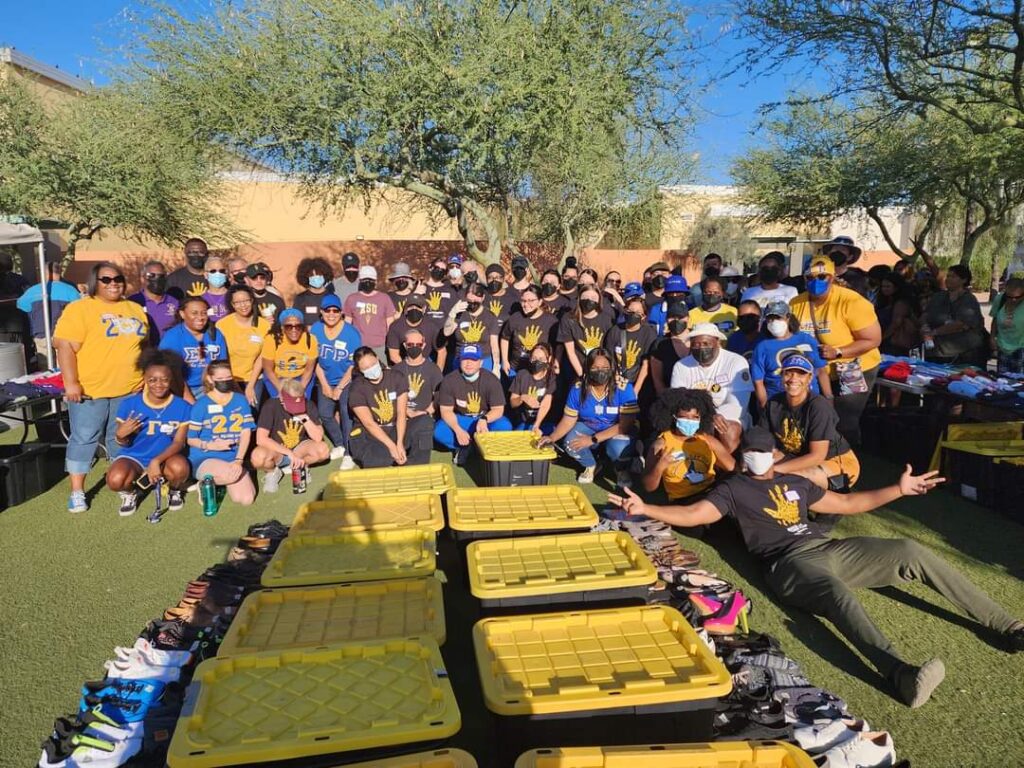 From the west coast to the east coast, mid-America to the South and North, homelessness in America continues to grow in this slightly post-pandemic era.
In communities across the nation, city governments are looking to move make-shift tent cities where the homeless conjugate, and force individuals to take up resident somewhere other than in or near a major cities downtown area.
The issues of where to house homeless men women and often families continues to be a thorn in the side of major cities. While the question of where to house continues, some organizations also continue to provide necessities such as "gently worn shoes and clothing" to those experiencing the homelessness.
The Project Humanities Service Saturday, Humanities Marketplace was alive and popping on Saturday, June 17, as Dr. Neal Lester, founding member of the viable effort welcomed members of the Divine Nine (Members of historic Black Greek Letter Organizations to the bi-monthly outreach effort).
Members of Beta Mu Sigma, the Phoenix Alumnae Chapter of Sigma Gamma Rho Sorority, Inc, along with the brothers of Omega Psi Phi Fraternity, Inc, Phi Iota, Phoenix graduate chapter, were joined by the brothers of Iota Phi Theta Fraternity, and Kappa Alpha Psi on a the bright Saturday morning.
Members of the Arizona Nursing Association (candidates in training to become nurses) along with Humanities 101 founders and regular volunteers rounded out the abundant gathering that allow the Marketplace and personal shopping to take place as ideally planned.
The ladies of Sigma Gamma Rho also blessed the effort with loads of cases of water for distribution to the homeless and unsheltered.
Distributing "gently worn clothing, shoes, and hygiene items as well as backpacks, caps and water bottles was the order of the early morning, from 6:30 am – 8:45 or until the items are gone.
"Our primary goal and mission is distribute clothing and shoes but that begins by showing kindness and just being friendly," noted the Project Humanities founder Dr. Neal Lester.
"During the summer months I'm not always sure who or how many of our regular volunteers will come out as there are vacations, and short stay-cations, to get away from the summer heat. I completely understand," Lester stated, adding, "So having the brothers and sisters come out in full strength was a pleasant surprise."

Members of Beta Mu Sigma, the Phoenix Alumnae Chapter of Sigma Gamma Rho Sorority, Inc, along with the brothers of Omega Psi Phi Fraternity, Inc, Phi Iota, graduate chapter serving the, were joined by the brothers of Iota Phi Theta Fraternity, on the bright, and warm Saturday morning.
"We understand the importance of this project and the constant effort that goes forward in this week after week. We are here do our part," shared Jackie Williams, President of Phoenix Alumnae Chapter of Sigma Gamma Rho, a service sorority founded Nov 12, 1922 at Butler University, in Indiana.
TR Badger, representing for the Iota's, arrived with several bags of clothing and needed shoes for the growing homeless population. Iota Phi Theta is a service organization founded on Sept 13, 1963 at Morgan University in Baltimore.
A member of Kappa Alpha Psi was a service organization founded at Indian University in 1911 was present as well and assisted in hauling in a few dozen cases of water.
The distribution moved quickly and close to 200 men and women were provided with (6) items i.e., pants, shirts, shoes, underwear, t-shirts, and hygienic items.
"I would say this was a good day," noted Dr. Lester, adding most of them are, a bit of kindness can go a long way in making someone's day."
Notable: Project Humanities is an award-winning initiative implemented at Arizona State University that leads local and national critical conversations around some of society's most pressing challenges politically, socially, and historically; all within the context of addressing the fundamental question to all that happens in the world: "Are we losing our humanity?" Project Humanities' focus on Humanity 101 programming that promotes these seven non-faith-based values: compassion, integrity, respect, forgiveness, empathy, kindness and self-reflection.
---
Danny L. White currently lives in Phoenix, AZ. He is the author and creative lead for the Sensational letter "S", a children's book focused on early reading comprehension and word development. He is also a Adjunct faculty member at Maricopa College, and staff reporter for the Arizona Informant. He is an active member of Omega Psi Phi Fraternity, Inc, in Phoenix.