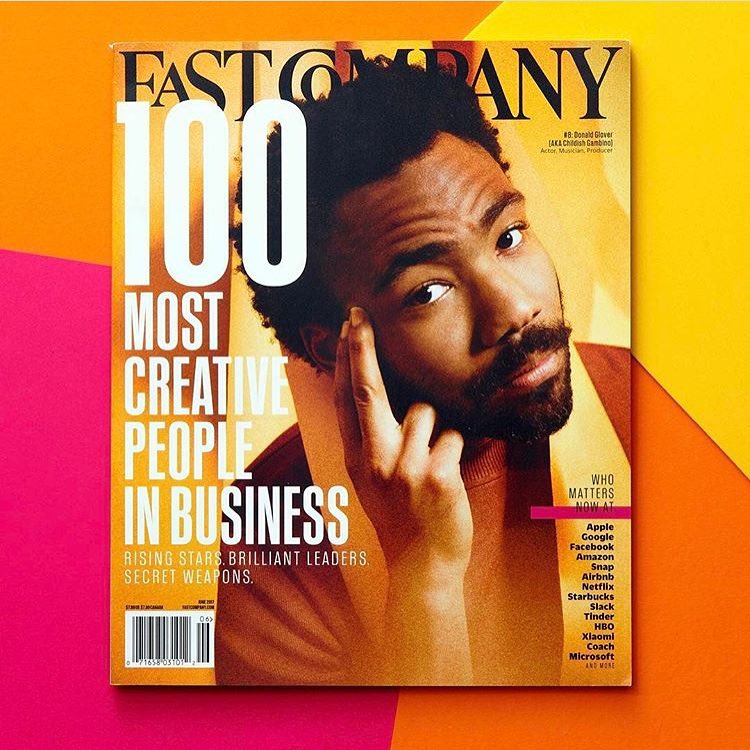 In an interview with Fast Company, Donald Glover the brilliant mind behind FX's series Atlanta, was listed as one of the 100 most creative people in business. Glover has an impressive list of upcoming projects including playing  Calrissian in Han S0lo prequel (due next summer), voice of Simba in the upcoming film, The Lion King, and he will appear in this July's Spider-Man: Homecoming.  Last December, while still making the Spider-Man film, Glover released his third official album under the name Childish Gambino–the well-received Awaken, My Love!–and in September he performed at a sold-out, three-day multimedia event in Joshua Tree, California, to debut his new music.
But the project that has made Glover's career take off and has made Hollywood take notice, transforming him from a well-respected performer into one of Hollywood's most exciting and in-demand creative minds–is the FX television series Atlanta, which he created, stars in, cowrites and executive produces.
Donald Glover is quoted in the article having this to say about having a creative base.
"Freedom is responsibility. This idea that the only thing stopping you is your own imagination–that's beautiful, but you still need structure, you still need boundaries, even if you're making them yourself."
Here are a few more quotes on creativity from an impressive list of Chocolate Hero's who made the list:
Rodney Hines, Director of U.S. Social Impact, Starbucks
As an executive responsible for Starbucks's social-good initiatives, Rodney Hines is helping to further the coffee giant's new efforts to hire 10,000 refugees across 75 countries by 2022. Hines is also leading the company's ongoing initiative to bring 15 cafés to economically depressed U.S. communities. Five are now open—including one in Phoenix, one in Ferguson, Missouri, and one in Phoenix; Ferguson, Missouri; Baltimore; and the Chicago neighborhood of Englewood—and all of them are not only hitting their sales targets but have already indirectly contributed a total of $10 million in economic development to their respective areas.
"My role is to take [this] commitment and bring it to bear for the business—to make it work."
Cleo Wade, Poet, Artist, Activist
Over the past two years, the onetime office manager and model has amassed 231,000 Instagram followers, who are drawn to the uplifting, handwritten verse she posts, which often carries messages about chasing dreams and standing up for beliefs. Wade sells her poems as singular prints, and will collect them in a forthcoming book (due in 2018), but she also puts her words to work for other brands. As a member of the creative council for Emily's List, an organization that helps pro-choice Democratic women run for office, Wade appears at political events and in videos, exciting voters and bolstering candidates.
"I think there's a hunger for the connectivity that poetry brings."

"Back in the day, you'd just have your show and hopefully get signed to a gallery," she says of being an artist. "Now you do a partnership with Armani where you align your messaging for both of your audiences. You attract the people in the world who feel or believe the same things with you at the same time, and want to create a space to further that messaging."
Barry Jenkins, Writer -Director
Made for just $1.5 million, Barry Jenkins's critically adored 2016 drama Moonlight earned more than $60 million worldwide and won three Oscars, including best picture. But the film was more than just a hit. Featuring an all-black cast, it captures the life of a young, gay African-American man—an experience never before explored with such depth and complexity in mainstream Hollywood. Jenkins is now working on a screenplay for a movie about boxer Claressa Shields, and he's also creating an Amazon series based on Colson Whitehead's 2016 novel, The Underground Railroad, which imagines an alternate universe in which slaves made their escape on real trains.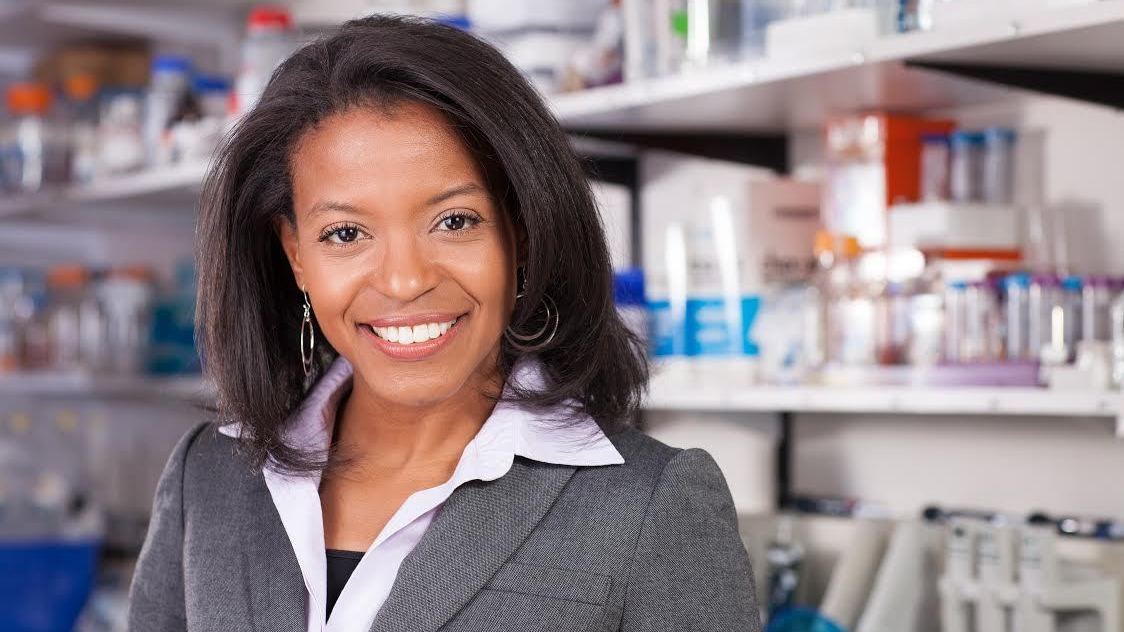 "What we've been given in the arts [about] blackness and masculinity is very narrow."

"There's so much room for us to spread the scope."
Lisa Dyson, Cofounder and CEO, Kiverdi, for converting CO₂ into food
Physicist Lisa Dyson was exploring new techniques to recycle CO2 with John Reed, a former colleague from the Department of Energy's Berkeley Lab, when they stumbled upon NASA research from the 1960s that looked at how microbes aboard spacecraft could absorb CO2 from as­­tronauts' breath and be turned into food. Kiverdi is now working to make other products using recycled CO2.
"If we show companies this is environmentally and economically sustainable, they're going to choose [it]."
Porter Braswell, CEO and Ryan Williams, President of Jopwell
Former Goldman Sachs employees Porter Braswell and Ryan Williams created re­­cruiting site Jopwell to let companies more easily connect with minorities. The platform—which is being used by Facebook, Airbnb, and Pfizer, among others—is also home to digital magazine The Well, which helps advise and em­­power minority job seekers. Two years after its 2015 launch, Jopwell has grown into a leading tool for both businesses and candidates from underrepresented communities.
"You can't seek an opportunity if you don't know it exists." Ryan Williams.

"A lot of our focus [for the future] is tackling that second step. Jopwell got you a job—now we're going to help you climb the ladder. We want to build an entire workforce of leaders within corporate America." Porter Braswell
Jessamyn Stanley, Yoga Teacher and Writer
Jessamyn Stanley started with a simple bow pose. About four years ago, the then-novice yoga practi­tioner posted an Instagram photo of herself in a sports bra and shorts, lying on her stomach, pulling her feet toward her shoulders. But as a plus-size woman of color, she became an inspiration for others.
"There are so many people—fat people, old people, short people—who practice yoga. Yoga itself, she says, is a tool for ac­­ceptance and self-love: "I'm advocating for a whole new perspective on life."
Xavier Burgin, Writer, Director, famous for cut-up storytelling
What stands out about, writer, director and filmmaker Burgin's—known as XLNB on social media—is drawing a growing audience for his hilarious fictional narratives, is that he crafts his work in real time, improvising twists based on followers' reactions.  Since Burgin's first hit, a love-triangle comedy called "Tina and the Gucci Flip Flop," went viral in 2015, he's created over 30 more, including "The Barbershop Chronicles," a cautionary tale for anyone considering dating the ex-girlfriend of your hairstylist.
"Posting the over-the-top shit on [Twitter] helped me realize that I'm actually kind of funny.  But it also helped me understand my voice as a writer."
Amaka Osaka, Founder,  Maki Oh
Lupita Nyong'o, Solange, Issa Rae: These high-profile women have publicly sported Maki Oh designs, having discovered the Nigerian fashion line via Instagram, one of the few luxury retailers where it is sold, or Michelle Obama, who famously wore the label in 2013. Lagos-born founder Amaka Osakwe's work is rooted in Nigerian culture. Her runway shows display references to life in her country, project messages of female empowerment, and feature exclusively women of color. The clothes blend Western silhouettes with African craftsmanship and materials: Osakwe is reviving the Nigerian art of adire (cloth dyeing), which creates patterns that have specific meanings.  As she expands global distribution of Maki Oh, Osakwe also has plans for a more affordable ready-to-wear line.
"Clothing is used to be a form of communication," she says. "Cloth would allow you to make a statement, like, 'I'm happy that you're here,' or 'I'm sorry about what I did earlier.' "
See the entire list of creative 100 on FastCompany.com