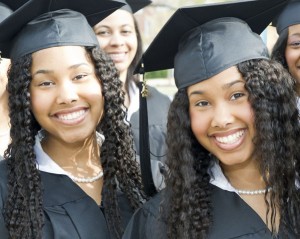 (Atlanta, Georgia) Kristie and Kirstie Bronner are identical twins.  And get this: They both have identical grade point averages.
For the first time in the history of Spelman College, the talented Bronner twins  are named co-valedictorians for the Spelman College Class of 2013.
As graduates of the  historically black college (HBCU) known for producing the best and brightest,  The Bronner girls came to the university prepared and eager to learn and, clearly their hard work paid off.
"Before we came to college we prayed that we would keep 4.0s all the way through but I don't think we ever really expected it," said Kirstie Bronner.
"We learned how to have a balance to life and then to be able to appreciate the journey of college and be more healthy and be more happy," Kristie said.
They also believe that what you know is not as important as how determined you are when it comes to succeeding in both life and academics.
Both music majors, after graduation the two young women plan to complete a gospel album together.
"You don't have to be the smartest. You don't have to be the one who came in with the prior knowledge to be the one to succeed," Kristie Bronner said. "It's a great testimony and it's also fun to be able to share it with one another. I don't think we'd want it any other way."
The sisters are third-generation Spelman graduates. As youngsters, they looked up to their mother, Nina Cobb Bronner, C'85, and grandmother, Dorothy Gibson Cobb, C'56, and naturally wanted to continue the Spelman tradition. However, Kirstie changed her mind in high school and wanted to go to a school with more diversity. Her perspective shifted when the sisters took part in a National Society of High School Scholars campus tour of Spelman their senior year.
Spelman College's 126th Commencement will be held Sunday, May 19 at 3 p.m. at Georgia International Convention Center. Baccalaureate service will take place Saturday, May 18 at 9 a.m. at Spelman.
About Spelman College:
Founded in 1881, Spelman College is a highly selective, liberal arts college widely recognized as the global leader in the education of women of African descent. Located in Atlanta, Ga., the college's picturesque campus is home to 2,100 students. Outstanding alumnae include Children's Defense Fund Founder Marian Wright Edelman; Sam's Club CEO Rosalind Brewer, Broadway producer Alia Jones, Former Acting Surgeon General and Spelman's first alumna President Audrey Forbes Manley, Harvard College Dean Evelynn Hammonds, Author Pearl Cleage and Actress LaTanya Richardson Jackson.
Source:  Naturally Moi, PR Web