"Beautiful music in a beautiful setting. Now let's drink some more wine, maybe we'll sound better, cheers!"  Jokingly says the uber-cool energetic musician Brian Culbertson, one half of the "Dream Tour," who performed Sunday, at one of Temecula Wine Country's most captivating outdoor venues, Thornton Winery.
That being said, instantly in response to Brian's comment, audience members held up an entire bottle, of an elegant glass of Thornton's fine Chardonnay, while others clapped and shouted back at the stage enthusiastically, "We love you!"
The Dream Tour featuring two incredible mid-western born and bred musicians: David Sanborn, of St. Louis and Brian Culbertson, originally from Decatur, IL  both, along with the band, collectively brought the house down at Thornton's 24th annual Champagne Jazz Series in front of a diverse, sold out  crowd.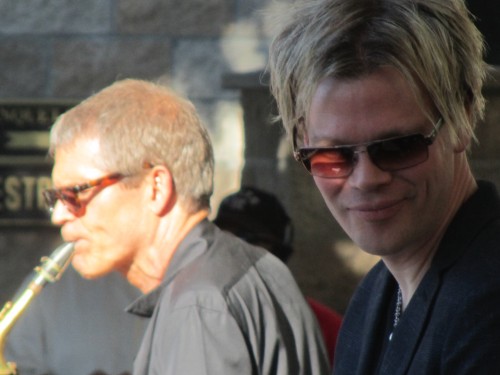 Six-time Grammy-Award winning 65-year-old Sanborn, one of jazz music's most soulful sounding sax players, continues to earn praise and respect among fans with his instrumental sounds of soul combined with rhythm & blues.
No stranger to adversity, alto sax Sanborn was stricken with polio as a child and under advisement from his doctor, it was suggested that he learn to play sax as a way to strengthen his chest muscles. Determined to follow doctors orders, young Sanborn did what he was told and, as a result has become one of the most gifted and talented sax players of all time.
The other half of the dream team tour is the vibrant, baby faced 39 year old instrumentalist Brian Culbertson, whose captivating performance pulls the audience in to let's just say, Brian's world. Multi-talented Culbertson's upbeat performance is mesmerizing as he energetically switches back and forth from keyboard to trombone bringing that funky jazz sound alive.
Incidentally, Bringing Back the Funk is the name of his number one selling album in 2008.
Culbertson's latest album titled Dreams features collaborations with several talented R & B vocalists including: Vivian Green, Stokley Williams from Mint Condition and Noel Gourdin.
With two masters of music performing together, the Dream Tour magically works. The two musical geniuses beautifully performed the soulful sounds of Funk, Jazz and R&B at one of the most beautiful venues in southern California, Thornton Winery.
For more information on upcoming shows at Thornton Winery visit: http://www.champagnejazz.com/