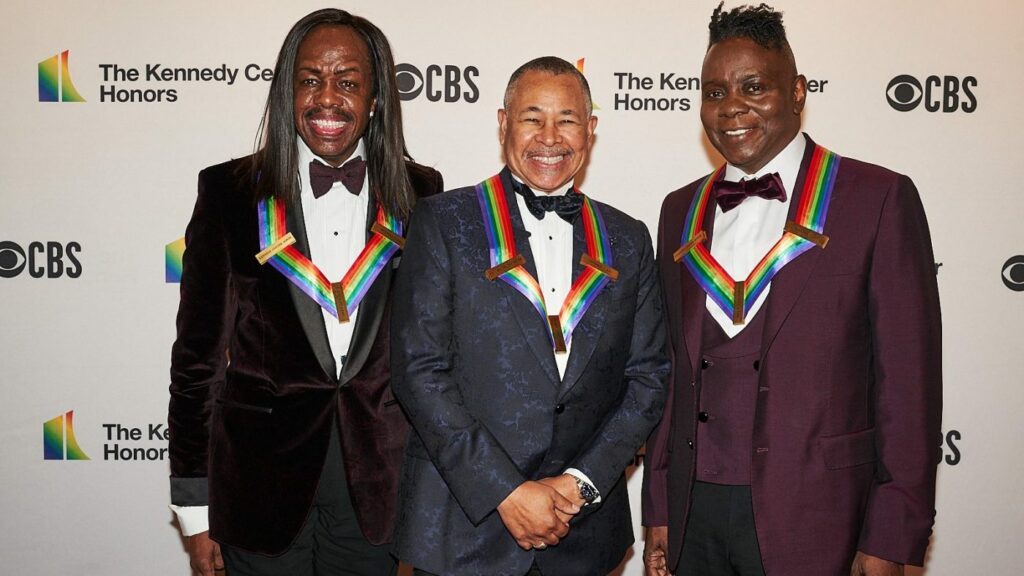 Dec. 8, 2019, marked exciting times and a very important day for the legendary band Earth, Wind, & Fire, who became the first Black group to be inducted into the Kennedy Center Honors.
Their tribute will be televised Dec. 15 on CBS, where viewers will get to see original members Verdine White, Ralph Johnson and Philip Bailey accept the honor.
Maurice White, the legendary founder of Earth, Wind & Fire, passed away from causes related to Parkinson's disease in 2016. In White's book, "My Life With Earth, Wind and Fire" by Maurice White and Herb Powell, the late Grammy-winning founder of the legendary pop/R&B/soul/funk/disco group tells his story and charts the rise of his legendary band in his sincere memoir that captures the heart and soul of an artist whose groundbreaking sound continues to influence music today. With an introduction by Steve Harvey and a foreword by David Foster.
During the ceremony, and on the Kennedy Center stage, fans, collaborators and, most importantly to them, friends such as David Foster and David Copperfield, told stories of working with the legendary group. John Legend ("Can't Hide Love"), Cynthia Erivo ("Reasons"), Ne-Yo ("Shining Star" and "Sing A Song") and The Jonas Brothers ("Boogie Wonderland") ran through a few of the group's best known anthems.
Bailey spoke about being the first Black group inducted into the Kennedy Center Honors and said he hopes it's the start of others getting in.
"There are so many more African-American acts that are deserving, and perhaps this can be the first of many more to come," he told Billboard.
Next summer will mark 50 years of Earth, Wind & Fire being a group, and they hinted at a duets album coming around that time that'll feature other artists. But they didn't reveal who those musicians would be.
"We're making a list and checking it twice," said Bailey. "And you'll hear about it soon."
The group also spoke about Maurice White and said their chemistry has always been so strong because he handpicked everyone. And his brother Verdine said although his older sibling is gone, he's constantly felt and honored through the music.
"You can't play any Earth Wind & Fire songs without Maurice's DNA being on it," he explained. "So he's always here and we're always celebrating him and his vision. People are still coming together and having fun."