Geechigirl Crab Cakes
Note: Spring time is here and Easter is coming up. This soul food recipe is delicious, healthy, and done in two easy steps. These crab cakes would be a refreshing new side or entrée for an Easter meal.
Yields 10 cakes
Ingredients:
1 pound(s) fresh lump crabmeat
2 tablespoon(s) chopped fresh parsley
1 clove(s) garlic, finely chopped
1 large egg, lightly beaten
1/2 lemon, juiced
1 tablespoon(s) mayonnaise
1 scallion, chopped
1 teaspoon(s) dried dill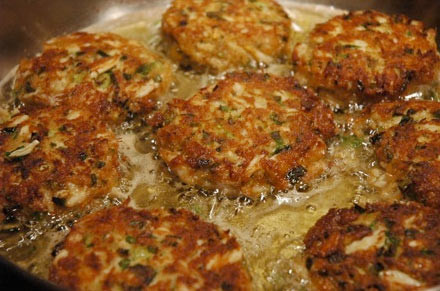 1/8 teaspoon(s) crushed red pepper
1/8 teaspoon(s) cayenne pepper
1/4 cup(s) bread crumbs
6 tablespoon(s) olive oil
Directions:
1. In a bowl, mix together all of the ingredients except the olive oil. Shape the crab mixture 3/4 inches thick.
2. Coat a frying pan with a shallow layer of olive oil and raise the heat to medium high. Cook for 4 minutes on both sides or until crisp and golden.
Recipe inspired by source.
Pepper Jelly and Ginger Glazed Ham
Note: Glazed ham is traditional to have in the South for Easter. This glazed ham is very tender and is made with a ginger ale sauce. It would be perfect for an Easter Sunday center piece.
Ingredients:
1 9 pound smoked, fully cooked bone-in half ham
1 teaspoon freshly ground pepper
2 cups Riesling or other white wine
2 tablespoons peppercorns
1 tablespoon whole cloves
1 tablespoon fennel seeds
2 bay leaves
6 cups ginger ale
1/2 cup red pepper jelly
1 tablespoon whole grain Dijon mustard
Directions:
1. Preheat your oven to 350°. Make a small cuts about 1 inch apart on your ham to create a diamond pattern. Rub the ham with olive oil and black pepper and place in the oven on a roasting pan. Pour the wine into the pan and stir in peppercorns, cloves, fennel, and bay leaves. Add 4 cups of water and cover the pan loosely with aluminum foil. Bake on the lower rack for 2 hours.
2. While the ham is roasting, bring the ginger ale to a boil in a 12 inch skillet over medium high heat and reduce down to 3/4 cup. Remove from heat and stir in the red pepper jelly until smooth.
3. Uncover the ham and bake for an additional 2 hours or more until your meat thermometer reads 160 degrees and the ham is caramelized. Baste the ham every 30 minutes with the ginger ale mixture. If the ham is browning too much, use aluminum foil to prevent excess browning.
4. Remove ham from oven and reserve 2 cups of the pan drippings. Let the ham sit for 20 minutes before carving.
5. Strain the reserved drippings and skim the fat. Bring to a boil in a sauce pan. Reduce to 3/4 cup remove from heat and stir in the mustard. Serve with the ham.
To prepare a 12- to 14-lb. fully cooked bone-in ham, increase red pepper jelly to 1 cup, olive oil to 2 Tbsp., mustard to 1 1/2 Tbsp., and ground pepper to 2 tsp. Cook the ginger ale mixture 20 to 25 minutes or until reduced to 1 1/2 cups, reserve 3 cups of the pan drippings, and cooking reserved drippings until reduced to 1 1/2 cups. Makes 18 to 24 servings. Hands-on time 15 min.; Total time 4 hours, 55 min.
Jasmine-Buttermilk-Panna Cotta with Berry Sauce
Note: Milk and Bread is a simple soul food dessert made of buttermilk, crumbled cornbread, and sugar. This recipe is a complex version of that flavored with a berry sauce instead of cornbread. Serve cold and enjoy!
Berry Sauce:
6 ounces fresh raspberries
3/4 cup coarsely chopped fresh strawberries
2 tablespoons sugar
1 1/2 teaspoons fresh lemon juice
1/4 teaspoon vanilla bean paste
Coarsely mash 3/4 of the raspberries and the rest of the ingredients. Let it sit for 30 minutes before serving with remaining raspberries.
Ingredients:
1 teaspoon unflavored gelatin
1 tablespoon cold water
2 cups heavy cream
1/2 cup sugar
1 (3-inch) orange peel strip, pith removed
3 regular-size jasmine tea bags
1 vanilla bean
2 cups whole buttermilk
1/8 teaspoon salt
Directions:
1. Sprinkle the gelatin over cold water and let it sit for 10 minutes.
2. Combine the heavy cream, sugar, orange peels, and tea bags in a medium saucepan over medium heat. Split the vanilla bean and scrape the seeds into the sauce. Add the vanilla bean.
3. Cook over medium heat and stir constantly about every 5 minutes until mixture begins to boil. Remove from heat and immediately stir in the gelatin mixture until smooth. Let it sit 5 minutes. and discard the tea bags and vanilla bean.
4. Stir in the buttermilk and salt, then strain into eight 6-oz. glasses. Cover and chill them for 24 hours and serve with Berry Sauce.
Recipes contributed by Charles Dejesus, formerly a culinary specialist in the United States Navy.  Charles is currently a student at Southwestern College. Charles Dejesus [email protected]