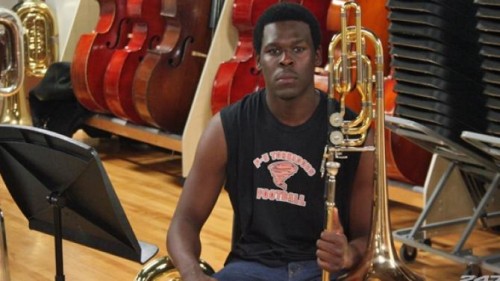 (Miami, FL) High School senior Chad Thomas, 18, is a teen with many talents and gifts. In fact, the senior at Booker T. Washington High School in Miami is so talented that he received 150 college scholarship offers.
Combined strong academics, athletic and musical abilities, colleges across the nation have flooded his inbox with college acceptance letters.
Thomas has an impressive GPA of 3.3, he is an Under Armour All-American defensive end and he plays a total of nine instruments: the piano, trombone, euphonium (a small tuba), bass guitar, regular guitar, snare, tuba, trumpet and drums.  Look out Prince!
Granted, Thomas has been given an opportunity most students dream of: attending their school of choice. After carefully reviewing his options, he chose to stay close to home and an attend the University of Miami to study music technology and play football, where's he's been named the third top Florida recruit by 247Sports(he says in an interview with CBS Miami.
Way to go Chad!  For more check out: Tampa Bay WTPS.COM