WHAT: EMPOWERING YOUNG WOMEN CONFERENCE
WHEN: Saturday, March 7, 2020, 8:00 am – 4:00 pm
WHERE: Riverside City College, Landis Auditorium, 4800 Magnolia Ave, Riverside, CA 92506

"I CAN CHANGE THE WORLD" is the theme for the 19th Annual Empowering Young Women Conference, a collaborative effort of the Adrian Dell and Carmen Roberts Foundation, Riverside Community College District, Riverside Unified School District, Virginia Blumenthal of Blumenthal Law Offices, Chief of Police, Larry Gonzalez and the Riverside Police Association, the Mission Inn Hotel and Spa, Susan Ebert, Signature Real Estate Group, Lt. Val Graham and Dr. Kathy Wright .
The conference will be held from 8 a.m. to 4 p.m. on Saturday, March 7, 2020 in the Landis Auditorium located on the Riverside City College campus at 4800 Magnolia Avenue, Riverside, CA.

This free conference, geared to young women ages 12 – 21 and their mothers/guardians, will feature informational workshops about women's health and nutrition, domestic violence, human trafficking, cyber-bullying, social media issues, self-image and dress, college, careers, a defense demonstration, a fashion show, photo booths, a poetry contest, and a talent competition.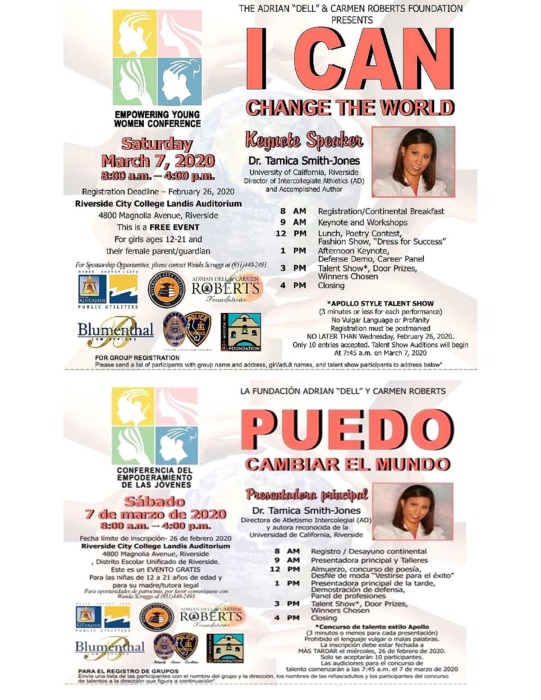 The morning keynote speaker will be Dr. Tamica Smith-Jones, Author and Director of Intercollegiate Athletics (AD) at the University of California, Riverside. Afternoon keynote speaker will be Lisanne Grey, Human Traffic Survivor and Intake Coordinator/Case Manager for Heart 2 Serve, Inc.
The afternoon career panel includes Diama Calhoun, Lead Deputy District Attorney of the Domestic Violence Unit, Riverside; Shauna Gates, newly appointed Chief of Police at Riverside Community College District; Kendra McCrary, Owner/Chef, Ooh La La Catering, Los Angeles; Lee Rodriguez, Actress/Model; Monica Stockhausen, Owner, Nerdy Girls Rock /Professor of Business, Chaffey College; Hon. Sunshine Sykes, Superior Court Judge, Riverside County, all notable female leaders and entrepreneurs. These dynamic and other accomplished women will share their experiences and how they reached their personal and career goals with the conference participants.

Conference Coordinator, Wanda Scruggs said,
"We are very excited about this year's conference as we have a cadre of excellent keynote and workshop speakers willing to share their knowledge and personal experiences with our young women. Participants will receive breakfast, lunch, a goodie bag, Resource Directory and information on everything from how to defend themselves to identifying human traffic perpetrators — and all at no cost, thanks to the generosity of our wonderful sponsors".

Participants are requested to pre-register no later than Wednesday, March 4 at www.adcrfoundation.org.

About The Adrian Dell and Carmen Roberts Foundation:

The Adrian Dell and Carmen Roberts Foundation (formerly Riverside Black History Parade Committee) is a 501(c) 3 not-for-profit organization established in honor of founders Adrian Dell and Carmen Roberts. The foundation focuses on the development of events and activities such as: The Riverside Black History Parade, Expo and Car Show; the Empowering Young Women's Conference, the Back-to-School Back Pack Giveaway, and Jazz on the Rooftop which promotes positive family and cultural interaction in a cross section of communities.