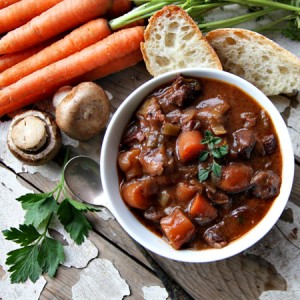 Beef Bourguignon Recipe
Note: This recipe is a very sweet and flavorful stew. The body of the stew is made of reduced red wine, spirits, and beef stock. The two-hour cooking time will ensure a pleasant aroma throughout your home. Serve over potatoes, rice, or noodles.
Ingredients:
3 lbs. of Chuck cut into large chunks
6 Slices of Thick Cut Bacon, chopped
1 Large Yellow Onion, chopped
3 Carrots cut into large chunks
6 Cloves of Garlic, peeled but not chopped
2 cups of Burgundy or Pinot Noir
2 cup of Beef Broth
1/4 cup of Brandy or Cognac
2 Tbsp. of Tomato Paste
2 tsp. of Fresh Thyme Leaves
1 lb. of Fresh Mixed Mushrooms, roughly chopped, not too thin
2 cups of Frozen Pearl Onions, thawed
1/2 cup of All Purpose Flour
2 Tbsp. of Olive Oil
2 Tbsp. of Butter
1 Tbsp. of Oil
1/4 cup of Fresh Chopped Parsley
Salt and Pepper to taste
Directions:
1) In a large Dutch oven preheated over medium high heat, add the bacon and cook until crisp, remove with a slotted spoon.
2) Add 1 Tbsp. of the olive oil to the bacon drippings and add the beef, cooking it for a few minutes or until golden brown on pretty much all sides, remove to a plate with a slotted spoon.
3) If your pan is very dry, add 1 more Tbsp. of olive oil and saute the onions, garlic and carrots for a few minutes or until they develop some color.
4) Add the brandy and allow it to cook out for about a minute, stir in the tomato paste and allow that to cook for about 30 seconds while stirring the whole time.
5) Add the beef back in along with the wine, beef broth, cooked bacon and thyme. Cover with a lid, turn the heat down to low and let it cook for about 2 hours or until the beef is tender.
6) Right before the beef mixture is done, saute the mushrooms.
7) In a skillet, add 1 Tbsp. of olive oil and the 1 Tbsp. of butter, let it melt over medium high heat, add the mushrooms and saute them for 5 to 7 minutes or until golden brown all over, season slightly with salt and pepper to taste and fresh chopped parsley, set aside.
8) Remove the lid from the pan, add the cooked mushrooms and pearl onions, turn the heat up to high and let everything bubble together for a few minutes or until thickened. Adjust the seasoning to taste and serve!
Source: http://www.laurainthekitchen.com/recipes/beef-bourguignon/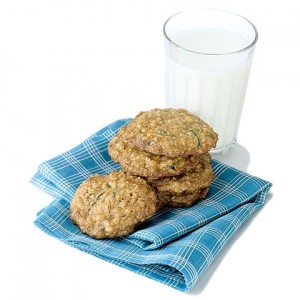 Zookies (Zucchini Oatmeal Cookies)
Note: Next time you make cookies try these zucchini oatmeal cookies. They're very chunky with bits of coconut, raisins, and butterscotch chips. Their name is sure to spark your guests' interest.
Ingredients:
1/2 cup butter, softened
1/2 cup brown sugar
1 egg
1/2 teaspoon vanilla extract
1 cup all-purpose flour
1/2 teaspoon baking soda
1/4 teaspoon salt
1 small zucchini, shredded
1 cup oatmeal
1/2 cup raisins
3/4 cup shredded coconut
1/2 cup butterscotch chips
Directions:
1. In a large bowl, cream together the butter and sugar. Add the egg and vanilla extract and beat well. Sift the flour, baking soda, and salt together and mix into a wet mixture.
2.Add the shredded zucchini, oatmeal, raisins, coconut (if desired), and butterscotch chips and mix thoroughly. Drop the dough by the teaspoonful into greased cookie sheets.
3.Bake at 350° F for 12 to 14 minutes.
Source: http://spoonful.com/recipes/zookies-zucchini-oatmeal-cookies
Recipes contributed by Charles DeJesus, formerly a culinary specialist in the United States Navy.  Charles is currently a student at Southwestern College.