Renowned wine connoisseur Frank Mangio, shares his experience visiting the underground wine CAVE at Pala Casino, Resort & Spa.
One of the most attractive caves I've had the opportunity to visit is the new underground CAVE at Pala Casino, Spa and Resort , east of Interstate 15 on Highway 76, in North San Diego County.
You can enjoy dinner on the casino level, then descend into 2,400 square feet of cellar space which is an underground wine cave, plush with oversize leather tables and chairs, a stage for music and a bar that has access to 480 of the greatest wines in the world.
The cuisine in the dining room is distinctly Mediterranean with an Italian flair, prepared by international chef Luciano Cibelli. This man has a personality that, once you meet him, you will not forget his style, talent in the kitchen and his focused pairings of wine and food.  "I speak five languages and know the best cuisine of each country," Luciano revealed. "I have been at Pala for 14 years now. We opened Mama's Restaurant in 2002 just before the hotel opened with 507 rooms.  Now we have the best Mediterranean food with CAVE and a small and large bites menu." I asked him for his favorite on the menu and he had a quick answer. "Very hard to say.  That's like asking a Mamma which is her favorite son!"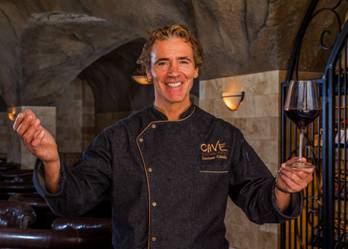 It wasn't hard for me to choose some delicious entrees, starting with a lovely presentation  of Burrata, a soft cheese specialty surrounded by slow-roasted Italian tomato with herbs. For my pasta, I chose a Tomato Risotto. 
The Risotto choices change daily and affords the Risotto lover a collection of flavors which give new meaning to "come back for more."  The large bite entrée was one for the books.  Chef Luciano presented a double cut Colorado lamb chop with plenty of rosemary and garlic, in a Cabernet wine sauce.  Truly a gift from culinary heaven.
I chose two red wines to wash this dinner combination down:  the 2011 Trione Pinot Noir from Sonoma and a 2008 Banfi Brunello Di Montalcino from Tuscany Italy that enhanced the flavor of the lamb as a perfect pairing should.  The new CAVE has entertainment every Friday and Saturday night.  The larger venue outdoor Starlight Theater presents marquee stars.  Huey Lewis and the News are playing Thursday July 30th at 8pm, with tickets still available.  Call the Pala box office at 1- 877-946-7252, or go to startickets.com.
Frank Mangio is a renowned wine connoisseur certified by Wine Spectator.
He is one of the leading wine commentators on the web.  View and link up with his columns at tasteofwinetv.com, and reach him at [email protected].  Follow him on Facebook.