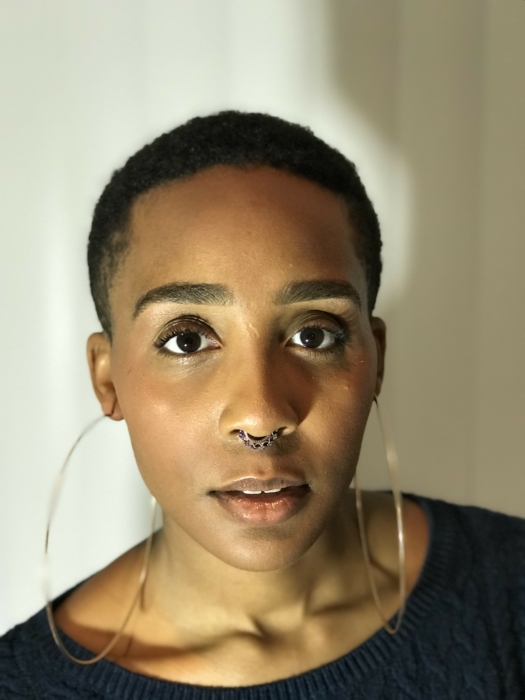 A few years ago when Jourdan Winstead's fiancé Ricky, suggested that she look into beauty school, little did she know that she'd find her passion and beyond. It goes without saying, as a mother of two small children both under the age of seven, she's used to having her hands full. In addition to being a mom, she's now a licensed esthetician, herbalist, formulist and entrepreneur, with a passion for wellness, particularly in the African American community. Taking her fiancés advice, Winstead enrolled in school at Avenue Five Institute in Austin, Texas. It was during her time there, where the flawless beauty with radiant skin was introduced to the hybrid-holistic side of beauty, a practice that peaked her curiosity in aromatherapy, chakras, crystals, and plant based medicine remedies focusing on skin care and wellness.
Although, prior to and during her studies Winstead worked as a freelance make-up artist with no formal training, people would often rant and rave about her work leading up to loads of referrals.
After graduating in 2016 from the Avenue Five Institute, fueled with passion and purpose in 2017, Winstead, enrolled in Reiki and herbalism Training, a form of energy healing medicine. From there, she felt even more empowered and decided to step out on faith to open up her own business, build a brand and create a line of plant based products focusing on ancestral work, health and wellness under her own company, Moonstone Wholistic. Her mission is to create a skin and body care company that focuses on healing, through honoring and revering our ancestors.
Selenite Alchemy, a product line created by Winstead featuring an impressive list of products, including oils, herbal remedies and wellness products with catchy and familiar ancestral names such as—Nefertiti Masque and Queen of the Nile. Whereas, Moonstone Wholistic, is the where you"ll find skin ceremonies, also known as facials. Skin ceremonies always include: An intuitive + professional skin assessment and ingredient/product selection that provides potent, topical plant medicine.
Winstead shares that her preference is to work with plants from the ground or sources from organic farms.
"Going back to adopting slow medicine or slow beauty methods is in alignment with time honored techniques used by our ancestors. My main purpose is to create products that focus on healing my community, the environment, inclusion and social justice."
As quoted on the Moonstone Wholistic website Jourdan Winstead writes:
"In a world that was built on traditional medicines and techniques, it is imperative that everyone knows that facials aren't only for white, women. Plant medicine isn't just for those that can afford it. Without sacrificing personal financial abundance, quality, or efficacy, it is very possible to makehealing accessible for all (including, but not limited to, people that are BIPOC and/or LGBTQ+, etc). When moving intentionally and authentically, we can ensure that more people have access to various body work, energy/spirit work, plant medicine, and safe space."
As a self taught formulist who's constantly educating herself on proper formulation, Winstead wants the world to know that as an esthetician she instantly understands the skin and the rest of the body as a whole.
Winstead currently has carved out a sanctuary in her home for business, but has plans to open up a storefront in 2021.
To learn more about Moonstone Wholistic and a variety of offerings from Selenite Alchemy—Click here .