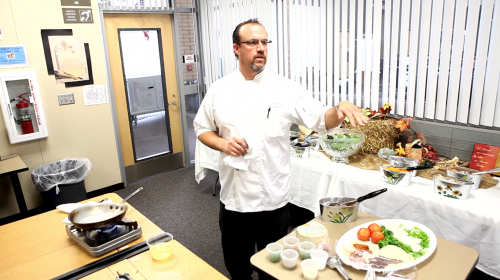 Changes made implementing healthier meal requirements are a key component of the Healthy Hunger-Free Kids Act 2012, spearheaded by the First Lady Michelle Obama, as part of her Let's Move! campaign signed into law by President Barack Obama.
On October 23, San Pasqual High School in Escondido, California, in partnership with New America Media hosted a briefing: "Nutrition in Schools." Supported by the California Endowment, the briefing was held to update ethnic media on revolutionary changes being made towards the district's dramatic changes in serving nutritional school lunches.
According to panelist Nutrition Services Director, Pamela Lambert, the program started in 2007 and, Escondido UHSD is one of the only schools in the nation to offer on their menu grilled food items and scratch cooking.
Favorites menu items still remain however, items such as burgers and burritos are prepared fresh daily with homemade ingredients, served on whole grain tortillas or bread along with fresh fruits and vegetables.
America's call to action stems from an attempt tackle the obesity epidemic of the 6.2 million California students. Other startling reports reveal that reportedly, 1 in every 3 children are over weight and, 20 to 30 percent suffer from chronic diseases such as asthma, diabetes and tooth decay.
Student Angel Bravo,  a member of the schools football team and, who served as one of the presenters, gave his testimony to the success of the program by saying. "The healthier kids eat the better we perform physically and academically."
Chef Jeff Rossman, owner of Terra Restaurant in San Diego was also on hand to present, explained how his involvement with the project came about after being approached by a principal who suggested that he work with students on a Farm to School program promoting the benefits of eating healthy.  From there, he made the decision to implement a gardening project aimed at teaching kids about fresh fruits and vegetables.
At the conclusion of the briefing, Chef Rossman treated the presenters and media guests, to a demonstration that involved grilling fajitas with fresh vegetables followed by a healthy lunch.
Other health partners on hand to present were: Parke Troutman (San Diego Hunger Coalition), Kay Stukhardt (Palomar Health), Rachel Macias (Student Nutrition Site Manager, San Pasqual High School) and Adrianna Paulson (Parent, Escondido Union High School District).