Paint it Marsala, 2015
In 2014, the Pantone color of the year had been radiant orchid, a lovely shade of pink; but now, as 2014 has come to pass and 2015 has come to take its place (you will be missed, '14) the Pantone color of the year is now marsala, a shade of red that is very reminiscent of the red wine. To start the new year stylishly, here are a few examples of how to wear the romantic color.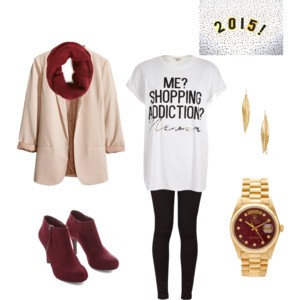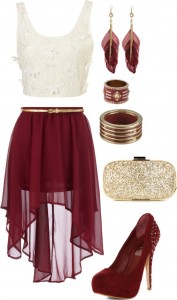 (For anyone and everyone facing the too warm Californian weather)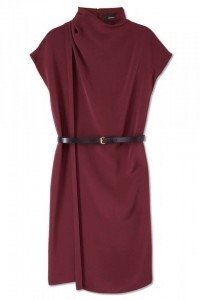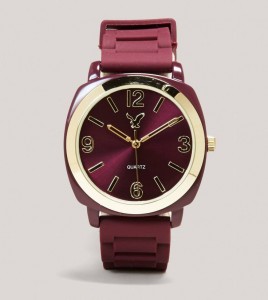 Falling for Fall Fashion
This outfit is anything and everything that is trending among high school students, for those that are curious. From the combat boots to the non-letter-man jacket to the high waist-ed jeans and to the mustache-adorned sweater! The combat boots, especially, have been a reoccurring item among teens and adults alike because of how effortless and cool they can look with an outfit, so to seem them with this coloring makes them a bit less common. What I personally think is really unique about this outfit, however, is that it's near monochromatic palette is really fun and can actually add some sparkle and life to this fall season! The warm and dark colors are beautiful and luxurious-looking, but this is certainly something that I would love to wear and to see other people wearing. Pink? Chameleon coloring? Who'd have thought?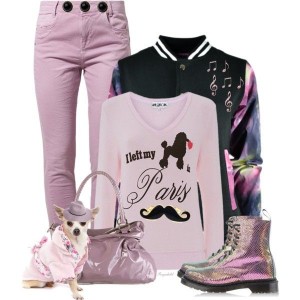 If there is anything I love more than the idea of wearing comfortable knit, it is the idea of being able to wear a robe and have it be labeled as fashion. This fall, we are looking for any coat or sweater that resembles a robe, thick fabric, tied belt, and all. While it is admittedly an…unusual fashion trend, there is no doubt that it is also very intriguing. Not to mention how warm and how effortless a robe can be for an outfit; one knot and ready for the day! In this particular outfit, the blue robe is matched with a leather dress. It looks chic and it is easy. This dark outfit would probably look best on a cool night out, with a pair of heels or boots.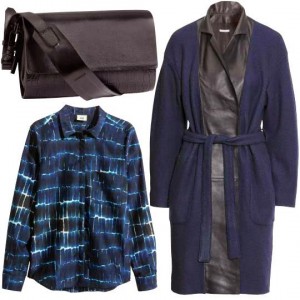 Knit
Knit. It's soft, warm, and perhaps the most comfortable fabric that anyone can ever wear. That said, it just might be the greatest fashion trend to have ever graced the cooler months, where many people could use the comfort. The best part? You can go small or go big with it! Do you feel like wearing a baggy sweater to work? Do you just so happen to have a pair of knit pants you would like to wear? Or would you rather be more subtle, with knit accessories and a slim-fit outfit? Knit can be worn many different ways—from hats, to sweaters, to leg warmers—and there is no limit as to what you can and cannot do, which makes it a personal fall—and everyday—favorite.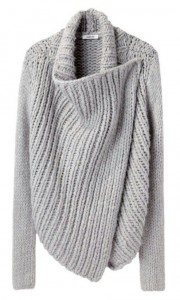 Cardigans 
This fall still finds knit to be our fabric of choice! Here is an outfit that shows what you can do to spice up the commonality of knit. With this knit sweater is a mustard yellow top–a great color during the fall and, in my experience, flattering on almost anyone–and a pair of cute and comfortable boyfriend jeans. The boyfriend cut, with room around the legs and a nicely fitted waist, easily makes an outfit look effortless and chic. With the knit are a pair of studded leather flats and bangles, all of which make this outfit look simultaneously sophisticated and fun.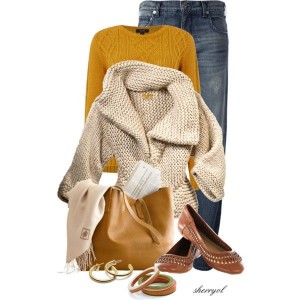 A tank top and sweater, taken to the very next level! This outfit is simply easy, with just a few accessories to add to how stylish it is. The sleeves of the sweater are very loose and comfortable, yet the fitted knit around the forearm gives the outfit an interesting element and makes it seem even more sophisticated. A pair of black slacks or jeans and a pair of sensibly black flats gives the look a monochromatic palette, which can be flattering on any figure,  and works well with the neutral brown tote.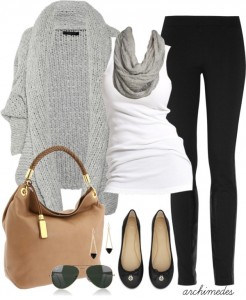 Here is another tank top and sweater combination, because I am adoring these as the year gets busier and busier. The sweater displayed here is almost a blanket fit that drapes around the figure, conservative, comfortable, but allows a special emphasis on the legs. A pair of studs add a little sparkle to the look along with the glittery nail polish. Because the rest of the outfit is pretty simple, a pair of patterned flats–in this case, animal print–really adds a fun factor.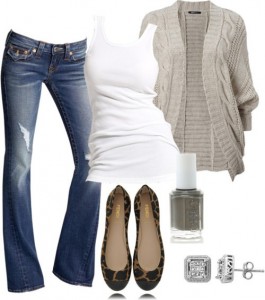 FALL in Love with Stripes!
Stripes can be friendly, stripes can be nice, especially when they are accessorized well! There is the common belief that whether a woman wears horizontal or vertical stripes depends on her figure. This is an accepted truth, but there is no harm in crossing the line between the two. For example, a horizontal cardigan, paired with a draped scarf, can create a dynamic, and flattering, shape on the body. The curves created by the scarf and the straight lines of the cardigan can do well to work with each other. (Not mention that the two can be easily rearranged if it gets warmer throughout the day.) That said, here are a few examples of outfits, all of them striped and all of them very wearable.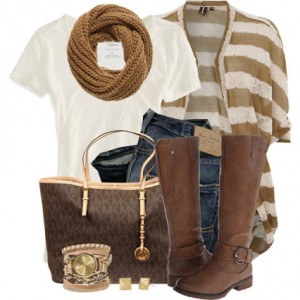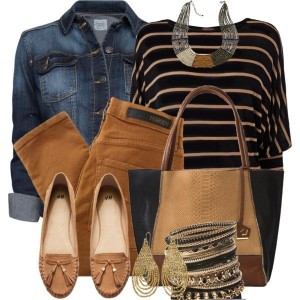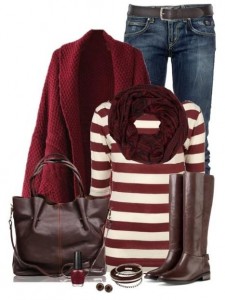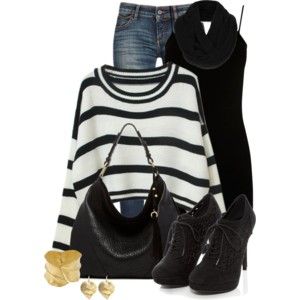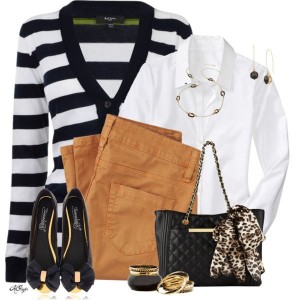 Striped cardigans and shirts might contribute to a more sophisticated and flattering look, but there is something interesting about a striped dress with leather pockets. This dress is both interesting and practical–because what woman can deny the usefulness of having a dress with pockets? A purse, as cute as it might be, is rarely optional when it comes to skirts, so this just might be a chance to take! The black and white stripes on this particular dress do have its advantages and disadvantages, between conservative colors and looking like an escaped convict, but the brown that cuts into it really makes it warm and fun for the fall. A pair of heeled sandals can give this outfit a more youthful appeal, but a smart pair of booties–with tights, even–is never a wrong choice.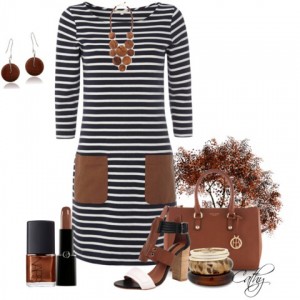 T-Shirts
T-shirts really are the most amazing things in the world! They can be worn while you are lounging in the house watching Netflix, worn while you are working outside or doing a chore, worn under a cute sweater while you are out with friends for a fun time, or even under a blazer for those daring to mix fun and sophistication in an outfit. Here are some personal favorite shirts and T-shirt outfits that I have found and wanted to share.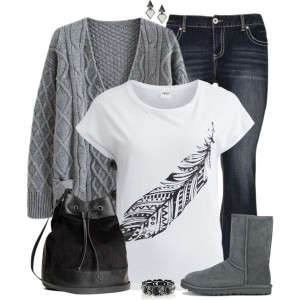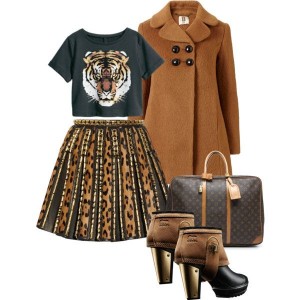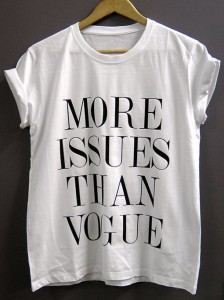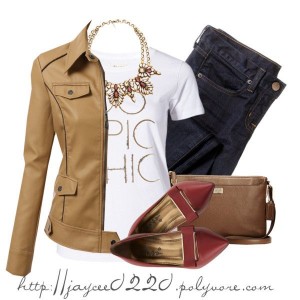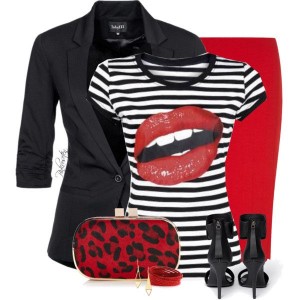 Leopard is a NEUTRAL
Animal print has a long history in the fashion industry because it is just a classic. Leopard print is a favorite, especially, because of the amount of sass and confidence it can give to an outfit. Not to say that an entire look should be based around animal print, but a few clothing pieces or accessories adorned with the leopard print is definitely an easy way to add some attitude to an outfit. I have a personal infatuation with leopard scarves and jewelry, but there is no doubting how well the print also works as in a bag, skirt, shirt, or–for the bolder and more confident woman–a full on coat!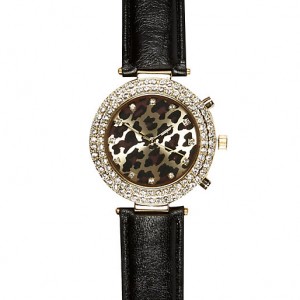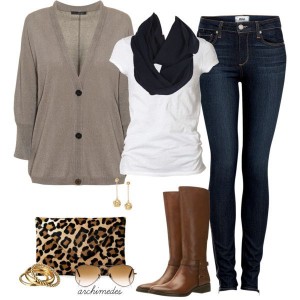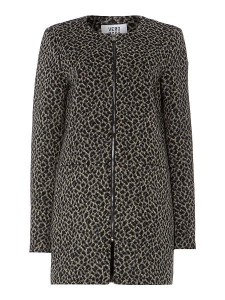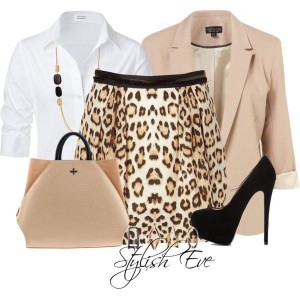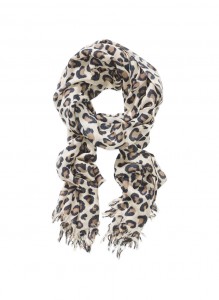 Cute AND Comfy
As it gets cool and as the year becomes even busier for some of us, there come the occasions where it becomes difficult to look cute without sacrificing some comfort. Here is an outfit from H&M, a dark and chic black dress–or a black skirt for anyone that has a preference–accessorized by a gold clutch and gold sneakers (hello, comfort!) to turn this outfit into an acceptably sporty look; a look that contains neither sweatpants nor a vicious pair of pumps or other such restrictions. The necklace is optional, of course, for any and all interested in adding some sparkle to outfit. It can also add an even greater sense of effortlessness.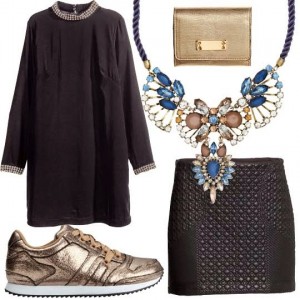 Here is another cute and comfortable outfit for a busy day; this, however, might be for a stay indoors look with a few friends. The dark sweater and pastel scarf start the outfit as both soft and mellow to contribute to a relaxed atmosphere, why the off-the-shoulder element (optional, of course, with adjustment) makes it more flirtatious and fun! The latter can be real important if you are having a busy day — say, a study session or casual meeting — group because it can take a bit of weight off the atmosphere. The jeans and boots make this perfect for the cooler weather and the flat boots can be easily tugged on or slipped off. Again, the earrings can add some sparkle or a pair of small studs would work.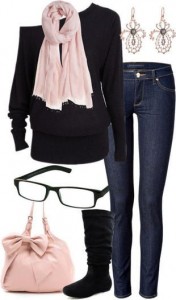 Back to School Fashion!
The school year has arrived!! The summer break has ended and is ready to release you into the arms of that needed education. The GOOD NEWS is that you get to return to school, see all of the friends that you might have missed during vacation and maybe even your old, favorite teachers. The BAD NEWS is that you have to dig your head into more textbooks and homework and exams and projects… More GOOD NEWS is that you can do all of the above looking stylish and ready for the new school year! Walking to and from different classes, many of which might be set on opposite sides of the campus, can be agonizing, so you might feel that there's no time or energy to be spared to look cute. I'm happy to say that you are wrong. The boots shown with these outfits are really fashionable, flatter the legs, and–because of their small heels–makes it easy to strut to class and arrive within plenty of time. And with book-bags that are as adorable as they are practical, the burden of textbooks can seem just a little bit lighter.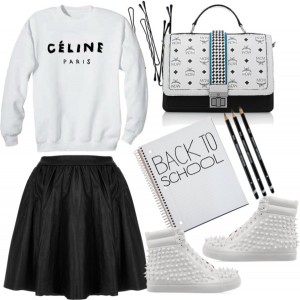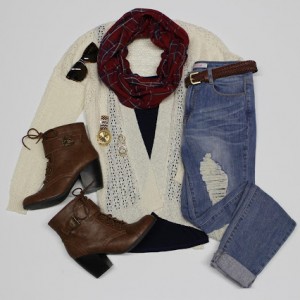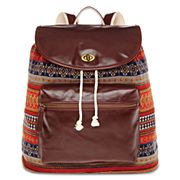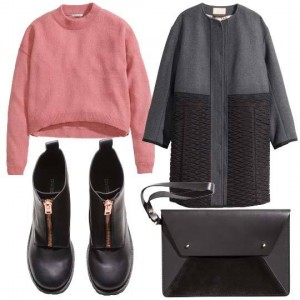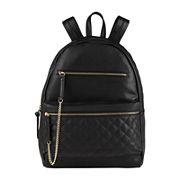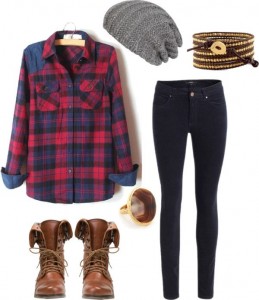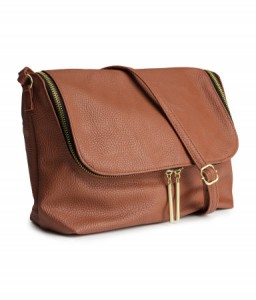 Have you ever picked an outfit, where you were stuck between choosing a flattering dress (or skirt) and a pair of your favorite pants? Not anymore! According to the fashion trends of this fall, you no longer have to decide. Of course, one should not feel obligated to wait, feel free to start before the summer ends! For example, why not pair your best boot cut with a flaring skirt or strapless dress? Flares and a pair of your best heels? Fitted jeans or a pair of capris with flats would also work. This outfit combination truly is all about trying some "DIY" and being confident while you try it.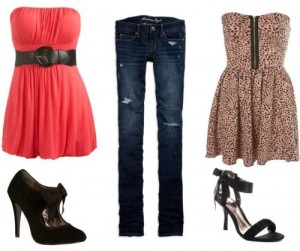 What to dress for during the summer? The summer light, or the summer night?
The past few days have been hot and humid–but the nights have been the exact opposite! Early in the morning and late in the evening, the weather is cool and comfortable; the perfect time to get a workout done before and after the busy day. At either times, however, it is potentially dangerous because it is dark and there is a less chance of you being seen if you need help. (Which we hope you will never need!) Presented here is the typical fitness outfit of a tank top, sports bra, and a pair of conservative pants that fit well enough that you are not endanger of tripping when you're running. What's really brilliant about this outfit though–pun incredibly intended–is the sweatshirt. The color is bright enough so that you can be seen at night without needing either a  reflective vest or belt while working out in the dark.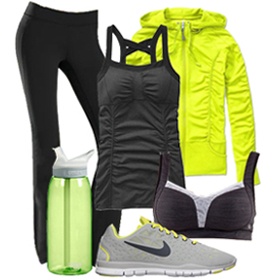 Blue and orange are almost the farthest colors away from each other on the color spectrum, so they cannot possibly be a great match after all, right? Well, it has been proven many times before that "opposites attract". This outfit further verifies that. These last few days in San Diego, California have been pretty warm and humid, making it less favorable to wear clothes that are, perhaps, too clingy. On days like these, flow is a must-go, which is why this royal blue shirt–the star of this show–is ideal. The blouse's color and cut, as well as loose hem, allow for glam and comfort. The shirt does much for the look, but these fitted jeans and the intriguing pop of color do much, much more!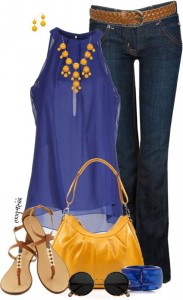 Color, color, color! Summer is the time for it all, there are absolutely no limitations, and that is possibly one of this season's greatest qualities in terms of fashion. Here, this flowing aqua dress is, perhaps, the epitome of the summer holiday because it is such a great color and it flows and glows once its lucky wearer steps outside. With the denim jacket and floral sandals, this is a very feminine outfit done in a really cool way. What I personally like about the outfit, is that it could easily be worn with either friends, family, or on a nice date. The jacket adds a modest touch while the skirt of the dress is very fun and flirty.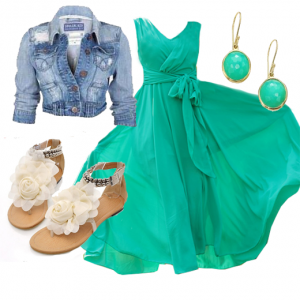 I cannot possibly stress enough how beautifully bright white and other neutral colors glow during the summer! Labor day has yet to take the fun away so, right here and right now, it is the perfect time to take this opportunity. Presenting a lacy peplum top that accents the chest more than the waist or hips, and a pair fitted white jeans, the outfit itself is flattering on almost any figure. What's great about neutral colors, is that you can wear big and bold jewelry as your accessories without going over the top, like this polished gold bracelet and these dangling earrings.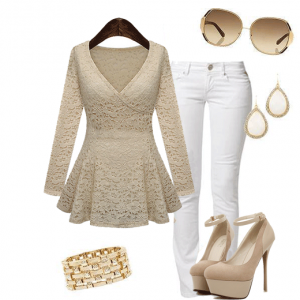 The Fourth of July may have passed, but the summer is not over yet! There's still plenty of time to have fun and enjoy that summer sun! The fireworks will come again and, until then, you can light up the streets with your own pop of color. These patterned shorts can brighten anyone's day, along with these cute strappy black sandals, flat and great for walking downtown and perusing the shops, and sunglasses to keep you as cool as you'll look.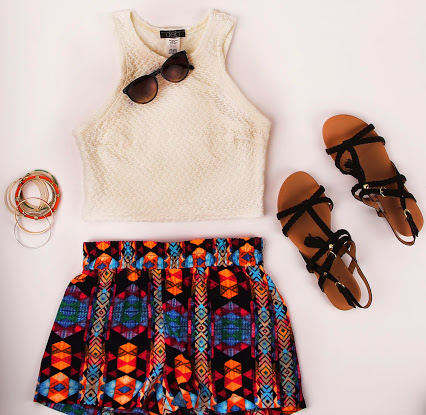 This is simply a nice outfit for the summer. Labor day has yet to come by to put a stop to this outfit's sophisticated white blazer, which is a perfect contrast against the stylish, dark purple tank top. The top is very blousy and has flirtatious cuts in the shoulder, an elegant way to keep you cool and comfortable on a warm night out. This outfit has plenty opportunities to make it your own, whether you'd like to replace the bag for a casual clutch, or switch the tall heels for a pair of flats, or even remove the blazer entirely!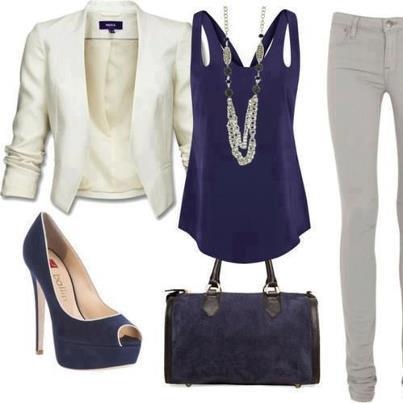 Spring getaways often bring us to beautiful waterfronts and sunny tourist destinations, allowing us to express our vacation style. This outfit, complete with a billowy blouse perfect for keeping cool in the sun, and a pair of cobalt-blue patterned shorts ideal for dipping your feet in the pool or in the ocean give this outfit a comfortable feel with a stylish pop of color.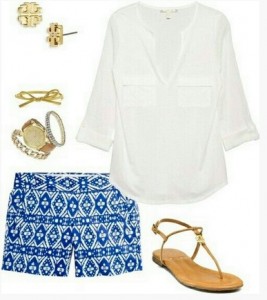 Perfect for a quick run to the supermarket or a stroll around the mall, this outfit can be accessorized with cute sandals or flats. In addition, this look can easily be dressed up by darker jeans, or be made more casual by lighter jeans.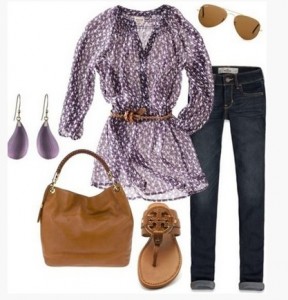 www.prettydesigns.com