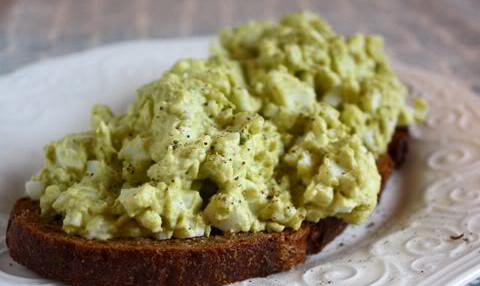 Note: What could make Egg Salad better? Avocado! You might want to make extra because its color alone is going to attract attention.
Avocado Egg Salad
Ingredients:
6 avocados – peeled, pitted, and cubed
1 teaspoon fresh lemon juice
5 hard-cooked eggs, chopped
1/2 red onion, minced
1/2 cup light mayonnaise
1 tablespoon milk
3 hard-cooked eggs, sliced
1/2 teaspoon paprika
Directions:
Toss avocado cubes with lemon juice in a serving bowl; mix avocado with chopped egg and onion. Whisk together the mayonnaise and milk; add to avocado mixture and gently mix. Arrange the remaining eggs sliced atop the salad in rows. Sprinkle top with paprika.
Source:  Recipe inspired by AllRecipes.com.  Contributed by Charles DeJesus, formerly a culinary specialist in the United States Navy.