Pizza is almost a must when you have a football party, but it takes too much space at the table. You can split that space with this dip and nacho chips and it'll be a big hit.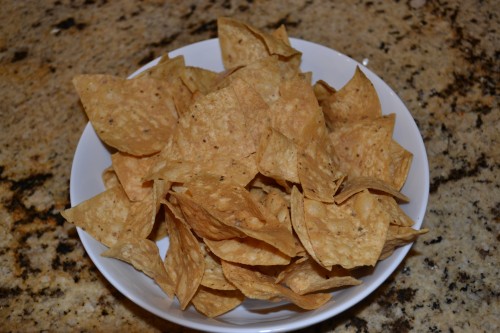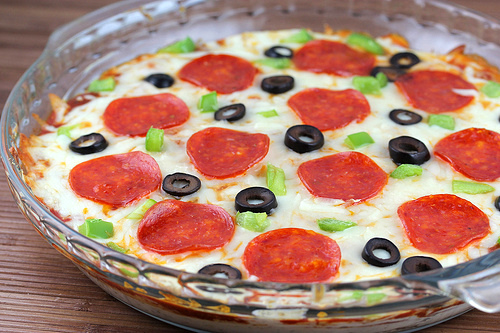 Ingredients:
4 ounces pepperoni
1 cup finely chopped onion
1/2 cup finely chopped green bell pepper
2 cloves garlic, minced plus 1 whole clove
1/2 teaspoon dried oregano
Kosher salt and freshly ground black pepper
1 tablespoon tomato paste
One 28-ounce can crushed tomatoes
1/3 cup pitted black olives, chopped
1/4 cup grated Parmesan
1 baguette, ends trimmed, sliced diagonally into twenty-four 1/2-inch pieces
2 tablespoons olive oil
4 ounces mozzarella, diced
Directions:
1.Preheat the oven to 425 degrees F. Dice 3 ounces of the pepperoni. Thinly slice the remaining 1 ounce and set it aside to garnish the dip.
2.Heat a medium cast-iron or ovenproof skillet over medium heat until hot. Add the diced pepperoni and cook, stirring, until crisp, 4 to 5 minutes. Add the onions, bell pepper, minced garlic, oregano, 3/4 teaspoon salt and some pepper. Continue to cook, stirring, until the onions are very tender and lightly browned, about 5 minutes.
3.Stir in the tomato paste and cook, stirring, until it coats the vegetables and smells lightly toasted, about 1 minute. Stir in the tomatoes with their juice from the can. Reduce the heat and simmer, stirring occasionally, until the mixture is slightly thickened, about 15 minutes. Stir in the olives and Parmesan and remove from the heat. Season with additional salt and pepper.
4.Meanwhile, toss the baguette slices with the oil and spread in a single layer on an un-greased baking sheet. Bake until lightly toasted and crisp, 7 to 9 minutes. Rub the slices with the whole garlic clove and set aside to cool.
5.Preheat the broiler. Scatter the mozzarella and reserved sliced pepperoni over the dip in the skillet. Place the skillet under the broiler and broil until the cheese is melted and lightly browned, 2 to 3 minutes. Serve the dip warm with the garlic toasts on the side.
Recipe contributed by Charles DeJesus, formerly a culinary specialist in the United States Navy and, student at Southwestern College. Recipe inspired by: Source.